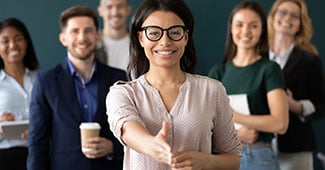 Worker turnover is a frustrating reality for many employers. It is so discouraging to see employees quickly come and go. If this is what you are experiencing as a business owner or manager, improving your own leadership skills might be the best way to put a stop to low worker retention.
One of the best ways to find great workers is to partner with a staffing agency. Liberty Staffing Services offers employers access to an incredible pool of potential workers, so be sure to reach out today to learn how we can help you build your team.
What Causes Employee Turnover?
Did you know that Canada ranks #4 globally for having the highest rates of employee turnover?
Turnover is often caused when workers feel that they have no opportunities to advance, or when they are frustrated with upper-level management. Workplace culture also plays a big role; people don't like to stay at companies where they feel undervalued, stressed, or overwhelmed.
There are many problems associated with high worker turnover rates. There are delays and slow-downs when you are trying to find new staff, and you end up spending more time and money on worker training and orientation when you are constantly bringing in new people to replace outgoing ones. Reduced productivity, lost worker knowledge, and overworking your team are troubling issues associated with low retention as well.
Good management can be the solution to many workplace issues, and that includes low retention. If you feel like you are losing workers all the time and just can't build a high-quality team because your qualified and trainable workers keep leaving, it is important to ask yourself: how can my management skills improve? What can I do to keep people around for a longer period of time?
Let's look at some of the answers to those questions!
Lead with Empathy
Empathy is one of the most underrated leadership skills when it comes to workplace management. However, it can play a huge role in understanding and meeting your workers' needs.
Empathy is about being able to relate to the feelings and needs of other people. It's not just about feeling bad for them when something goes wrong; it is about anticipating their needs, responding with compassion, and understanding that you and your team have a lot in common. You all want a positive, productive workplace with appropriate compensation and an environment where you can grow and thrive.
Use that empathy to help your workers feel heard, trusted, and valued.
Don't Let Conflict Simmer
Most people would probably describe themselves as "conflict-averse," but when you're a leader in the workplace, you don't really have the option to avoid conflict 100% of the time. Sometimes you will need to address a conflict you have with someone who reports to you, and sometimes you will help to solve a conflict between two or more team members.
It is important to be the kind of leader who addresses conflict when it occurs, ensures that each party has been heard, and works to resolve all of the concerns.
Letting conflict simmer leads to unhappy, frustrated workers. Frustrated workers don't stick around.
Recognize and Reward Hard Work
Leadership focuses on others, not just yourself. How can you make it a habit to notice someone else's hard work, and then reward it? Workplace rewards can come in the form of commendations, monetary rewards, special privileges, and much more.
If you're a leader who recognizes the hard work that your employees are putting in, you are going to create a happier work environment that people want to be a part of.
What are Your Staffing Needs?
Ask yourself: What are my staffing needs?
If your staffing needs aren't being met, a staffing agency can help! Liberty Staffing Services has access to numerous workers who are seeking employment. We know how to match the best workers with the best job opportunities. Instead of sifting through hundreds of resumes, posting expensive job advertisements, dealing with the long process of interviewing candidates, and onboarding new employees to your company, let Liberty Staffing help!
Contact us today to learn more about how our staffing agency can help you meet your recruitment needs.