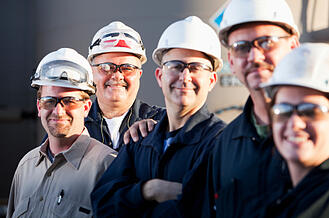 Many companies seek to recruit and hire employees to work for them on a temporary basis. Temp staff can be highly beneficial to employers in a wide variety of industries. Permanent employees go on leaves and vacations and when busy seasons come around, having some extra helping hands can be just what employers are looking for. These employers don't have enough full-time work to warrant onboarding permanent employees so they take advantage of temp staff that can come and go when they're needed. It's a great option when you're looking to save on overhead and labour costs and you always have the extra help when you need it.
With temp staff recruiting, employers have two options: they can take on the task on their own or they can outsource the undertaking to a qualified professional temp staffing agency. Here are three problems you might face with temp staff recruiting on your own.
1. Time Commitment
Undertaking the hiring process on your own—regardless of whether you're hiring temp or permanent workers—will take time. You'll need to dedicate time to writing up job descriptions, posting them on various outlets, sifting through resumes, and interviewing acceptable candidates. On the surface, this might not seem like a big deal. But considering the fact that you will likely get dozens, if not hundreds, of resumes, it can actually be quite time consuming. And when you're recruiting temp staff that won't be staying with you long term, it's a process that you're going to have to repeat every time you need extra help. You'll be taking this time away from your other responsibilities, deadlines, and commitments. Can you really spare it?
2. Vetting
The vetting process can be as simple or thorough as you make it. But if you're looking to get quality temp workers, you should be vetting your applicants as thoroughly as you can. You should be dissecting their resumes with a fine-tooth comb, looking for any exaggerations, errors, discrepancies, or outright lies. You should also be making the effort to call up any references that were provided, to ensure that you get all your questions answered so you have a realistic portrayal of your candidates as employees. Additionally, depending on the job you're hiring for, you might want to consider setting up job-specific or customized testing to ensure the candidates have the skills and experience that you need.
If you don't go through the proper vetting process, you could be making bad hiring decisions, which will only lead to more problems once your new temp workers have been hired on. This can result in wasted training time, errors, or even injuries.
3. Costs
It might seem like the more cost-effective option to perform the task of temp staff recruiting on your own, but you'd be surprised to see all the hidden costs add up. All of those job ads you're placing will cost you money and add up quickly. The time you're spending away from your other duties for temp staff recruiting will also cost you money in the end. Additionally, if you're making the wrong hiring decision due to an inadequate vetting process, you'll have wasted training expenses, and you'll have to pay more to hire someone else.
Let the Professionals Take Over
If you don't want to risk dealing with these three problems, your best bet is to work with a temp staffing firm. An agency will take over your temp staff recruiting duties so you can save yourself the associated time and costs. Plus, an agency can guarantee results.