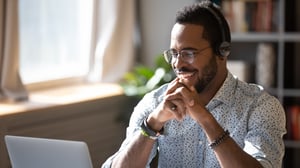 While many businesses are beginning to reopen, and lock down restrictions are lifting in Ontario, there are many companies that are choosing to keep their staff working remotely. Some owners are tracking COVID cases in their city and are reevaluating their businesses' needs on a daily basis. Other businesses have said that they will not be returning to the office until 2021.
If your employer is asking you and your coworkers to continue to work from home during this unprecedented time, it's best to do so. Not only will you be keeping yourself safe, but you will be helping to flatten the curve.
Whether you've found a new job where you're required to work remotely, or you're continuing to work from home until further notice, here are some tips to help you stay motivated and focused while working remotely.
1. Have a Designated Workspace
It's important to designate an area in your home which you can do your work. Ideally, this would be in a quiet area, with a desk and ergonomical chair, and in a room to yourself (where you can conduct virtual meetings and calls without disruption, and work as productively as possible).
However, this is not always possible for everyone. Many professionals have children, or are living in small apartments, or simply do not have the funds for home office furniture. If this is the case for you, try your best to find an area in your home which causes minimal distractions, is comfortable for you to work in while also being your most productive self.
Your home office does not have to be state of the art. In fact, your home office may look more like a dining room table, and that's okay! The main point of designating a space in your home which you can do your work is because it will help you differentiate between your personal life and your work life. So when you're working, you're in your home office (or designated work space). When you're not working, you're in a different area of your home. Think of entering and exiting your workspace like clocking in and out of work with a time card.
2. Take Breaks
It can be easy to work all hours of the day (or night) when you work from home. Your boss isn't there to tell you to wrap things up. You may even work through your lunch break, especially if you have multiple deadlines to meet, and you're trying to get ahead of the tasks that are piling up in your inbox.
Ensure that you are taking proper breaks throughout the day to prevent burnout, and to help you stay healthy (mentally and physically). Take a ten minute walk outside, or talk with a friend or family member on the phone. Take the amount of breaks you would normally take if you were still in the office.
Taking breaks can actually help you be more productive. Breaks help keep your mind refreshed, and you'll be motivated to take on the next work task.
3. Stick to a Schedule
Be sure to stick to a schedule when you're working from home. This means setting your alarm so that you'll be on time for work, writing important dates in a calendar, assigning tasks to coworkers, participating in virtual meetings or calls, and taking breaks on time.
If you don't stick to a schedule, or keep a routine, chances are that you'll fall into a rut or vicious cycle where you get up late, miss important meetings, or you're just not productive because you're not holding yourself accountable. Sticking to a schedule helps.
Need more work from home tips? Contact Liberty Staffing today! We hope you stay healthy and stay focused during this time.