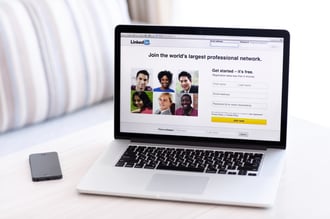 Being on the job search can be tedious, time consuming, and frustrating. And the longer it goes on, the more frustrating it can get. Naturally, you should be using every avenue possible to find employment opportunities and make your job search known in order to increase your chances of finding a job.
The job market has drastically changed over the years. With the rise of the internet, online job boards became the most popular method of finding work. But now, with social media more popular than ever before, sites like LinkedIn can be even more advantageous for eager job seekers.
If you're looking for a job, you should create a LinkedIn account. And if you already have one, you need to do more than just periodically update your profile. In fact, being active on this site can make or break your job search. Here are three ways an account on LinkedIn can help you gain employment.
Search for Employment Opportunities
This social media site has very advanced search tools that can help you locate and apply for employment opportunities that might not be advertised anywhere else. Virtually every company has an account and many of them advertise their open positions on the site. But it's easy to filter through the millions of organizations and opportunities. With its search function, you can easily locate open roles in your area and in your industry. You can filter for specific job characteristics and more in order to zero in on the positions that match your skills, experience, education, and interests. Creating an account can cut down on your company research considerably.
Network with other Professionals and Companies
You can be more proactive than just searching for open positions to apply to as well. You can follow your target companies—the ones you really want to work for—in order to get hiring updates. You can find their hiring managers in order to personalize your resume and cover letter. You can search through their posts to learn new knowledge about the companies that you could use to impress potential employers during the interview, too.
You can also search through your target companies' connections to see if you have any first-degree connections in common that can help you with an introduction. And you can broaden your network with professionals in your chosen industry—you never know when those connections will come in handy on your job search. Many of your existing or new connections would be happy to help you get your dream job if you put yourself out there and request help.
You've probably heard this before, but it's worth reiterating: networking is by far a more effective method for job seekers than spending hours on job boards, sending email resumes to hiring managers you'll never hear back from.
Help Recruiters Find You
Many leading companies rely on recruiters and recruitment agencies exclusively to find them new employees. And when these recruiters are looking for qualified and experienced candidates that match the candidate profile, one of the first places they look to is LinkedIn. When you create an account on LinkedIn and advertise your skills, experience, and accomplishments, as well as the fact that you're on the job search, you can get yourself seen by recruiters who can connect you with their clients and get you a temporary or permanent position. You won't even have to do any of the legwork.
If you're not on LinkedIn, though, these recruiters won't even know that you exist, and you could be missing out on many great job opportunities.
It's worth it to create a LinkedIn account. You can search for job openings, network with professionals in your industry, and allow recruiters to find you.