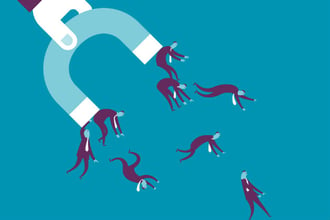 Your temp agency has probably been a godsend when it comes to recruiting, interviewing, and hiring great temporary staff. Time and time again, your agency has come through to find you the ideal candidates that get the job done quickly and efficiently. Though temp agencies are, of course, actively involved in recruiting and hiring the best temp workers—that's not all they're about. In fact, you can benefit from many other services that they offer—one of which is helping you with training and on-boarding.
The process of training and on-boarding temporary staff is a little different than with permanent employees. It often takes weeks or even months to do it effectively. But with temp workers, the process needs to be sped up and put into overdrive. The temp workers need to hit the ground running. You've hired them before you need additional help now. You don't have much time to dedicate to training and on-boarding. Luckily, temp agencies know exactly how to help you with training and on-boarding your temps in a jiffy. Here are three ways they can help.
On-Boarding Ahead of Time
Temp agencies understand that you expect your temps to be able to start working on their very first day. For this reason, they on-board ahead of time. Before they even step foot on your worksite, your temps will be told exactly what to expect from their new workplace. They'll know the job they've been hired to fill. They'll have the required understanding of how your company works and what you do, and they'll know exactly what their new duties are.
Often temp agencies will also write welcome letters, schedule orientation, create a socializing system, and give out access cards, passwords, logins, and parking passes.
The Employment Standards Act and Health and Safety Standards
To reduce your liability and any risk of accidents or hazards in the workplace, your temps must know the ins and outs of both their duties and rights under the Employment Standards Act as well as the health and safety standards that they'll be required to follow. Temp agencies ensure that your new employees are well-versed in these basic rights and standards as well as any relevant company-specific concerns they need to know, such as using heavy machinery or working with chemicals, before they walk on site.
Company Training
Of course, every company is going to do things its own way. Processes, systems, and procedures will differ, even if the temps have done similar work in the past. You shouldn't rely on a sink-or-swim mentality with your new temp workers. Without proper training, they're bound to fail or at least take a lot longer to learn how to get things done. Training your temps, even if they'll only be there for a short time, is an investment that can increase their value.
To get them ready for their first day, your temp agency can work with you to provide company-specific training. Your agency can provide temps with company policy and procedure manuals, employee manuals, and training documents, and also create training modules that simulate your business practices so they're up to speed and don't waste any time learning the ropes at your workplace.
Helping Them Succeed
To give your new temps the best chance of success in your company, your temp agency can help you with training and on-boarding. With the right information, manuals, and training ahead of time, your temps can be ready to hit the ground running on their first day.