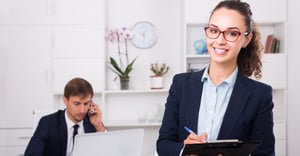 There are plenty of Administrative Assistant jobs up for grabs across Canada. In fact, Administrative Assistant is one of the most in-demand jobs for Canadian employers in recent years.
Even if there are many opportunities, you'll still need to convince any employer of your qualifications. A strong resume and a great cover letter are a good start.
Some employers may ask you for work samples or portfolios during the interview process. Don't view these as extra work. Think of them as additional opportunities to showcase your skills and demonstrate why you're the best person for the job.
Looking for a job? Let Liberty Staffing connect you to the jobs you want. Apply today!
Liberty Staffing provides Administrative roles throughout Ontario. We would love to see you succeed professionally. Here are a few tools to help you put a great portfolio together.
1. Choose a Formatting Tool
You'll need to include many different items in your professional portfolio. These include samples of your written communication, travel planning, and meeting minutes.
The good news is plenty of these documents will already be electronic. An email you've drafted and sent, or an itinerary you created for a travelling executive, are excellent additions to your portfolio.
The question will be how to present them. Tossing all the separate files into a folder or putting them on a disk is not recommended. This set up doesn't make for a good presentation, since all the files require different programs to open. Your interviewer may not have some programs, or they might need to substitute fonts, or make other changes.
Instead, choose a tool like Microsoft Word or another program to put your portfolio together. You can then choose to make a PDF. Another option is to create a PowerPoint or another type of presentation.
If you want to showcase your skills in a particular program, such as a calendar tool, you could take screenshots and place them in the document.
Not only does this ensure all your work samples are easily accessed in one document, it also showcases your skill with programs such as Word.
2. Choose a Storage and Sharing System
Another consideration you'll have to make for your Administrative Assistant portfolio is how to share it. You could email a PDF to potential employers, but the document may be large. An attachment might end up in their spam folders, which could cost you the interview.
Instead, think about using cloud storage or another file sharing solution. Dropbox and OneNote, among other programs, make it easy to share files.
3. Create a Website
Another option you have for your portfolio is to create a website, which you could then link potential employers to. This allows you to demonstrate your skill with web design, code, or a content management system like WordPress. All these can be valuable skills.
A website gives you the opportunity to display more varied examples of your work. You could include screenshots of your work. Some apps may allow you to embed various examples of your work directly into the website.
You can lock the website and require password access. That way, only employers you've applied to work with can access your portfolio.
4. Check for Specific Apps
Aside from the usual tools, such as Word and Dropbox, there are apps designed specifically for helping you assemble and share your portfolio.
There are plenty of apps to choose from whether you use Android or iPhone. EverNote, for example, allows you to design portfolios. You can write checklists, organize documents, and attach files here.
Other apps are specifically for portfolio building, like Krop. Some portfolio apps cater to specific markets, such as designers, photographers, or musicians. While you could use these apps, there may be one that's more appropriate for showcasing your work as an Administrative Assistant.
Already have your portfolio in line? It's time to start applying to jobs. Get in touch with Liberty Staffing today and we'll get your portfolio in front of the right people.