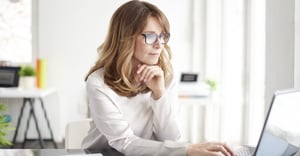 Administrative Assistant is one of the most in-demand jobs in Canada right now, and with a candidates' market in play, you may find you're having trouble locating the best candidate for the job.
Whether you're hiring an Administrative Assistant now, or plan to in the near future, keep an eye out for these crucial skills.
1. Seek a Master of Communication
Administrative Assistants need to master many skills, but communication skills rank quite high on the list of must-haves for this position. In this role, people will need to communicate with others around the office quite frequently, in both written and verbal forms.
You'll want someone who can write a clear, concise email to a supplier, and then have a conversation about appointments with a customer. A friendly, positive attitude will also go a long way.
2. Test for Organizational Skills
Another key attribute of great Administrative Assistants is their aptitude for organization. They're not just looking after their desk, or organizing their own computer files. This person is often responsible for keeping the whole office on the straight and narrow.
An Administrative Assistant may do everything from schedule customer appointment, to create meeting calendars, and organizing paper and digital files. They might even be responsible for team-building exercises, and "extra-curriculars" like team outings, which are a cornerstone in workplace well-being.
3. They're Well-Versed in Technology
Today's Administrative Assistants have more help than ever, thanks to technological innovations like artificial intelligence and automation.
That means they need to know their way around a smartphone and a computer, as well as your phone system. You'll want someone who's familiar with most of the basic office programs, like spreadsheet and scheduling software.
Someone with a knack for technology may also know their way around the cloud or other technologies, which means they can be connected constantly, and keep all their devices in sync. Most importantly, they'll be able to learn almost any new software or system you use quickly.
4. An Effective Manager of Time
Time management is often talked about, and many people believe they're good at it. Administrative Assistants don't just believe they're good at managing their time. They're often the best time managers in the whole office.
They have to be, since they're responsible for keeping almost everyone on-task and on-time. In many offices, Administrative Assistants are called upon to provide resources for many people across the organization. With so many demands, people in this role must effectively manage their time in order to succeed.
5. A Detail-Oriented Mind
Since Administrative Assistants are often responsible for planning, scheduling, and filing, it makes perfect sense that they also need to be experts at keeping track of the fine details.
Look for someone who takes care of the little matters you might not immediately think of. You may find they put a little extra into their resume, or think more carefully about their interview answers.
6. Seek Out Resourcefulness
Another test you may want to give potential Administrative Assistants during an interview is regarding their resourcefulness. Ask them the tough questions about how they'd handle certain situations.
A resourceful person will thrive in this role, because they'll be able to draw on problem-solving skills, critical thinking skills, and their own network to ensure everything gets done, both correctly and on time.
A resourceful person is ready and willing to learn. They'll be ready to take on new technological challenges to get the job done faster, or they'll experiment with new workflows to speed up processes.
Find Your Next Administrative Assistant with Us
If you're ready to fill an Administrative Assistant role, get in touch with Liberty Staffing Services now. We help employers like you find the best candidates for your open Administrative position.