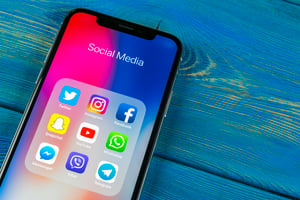 Social media is becoming more and more imperative to the job searching process. You can apply to job advertisements through LinkedIn and Facebook. You can search for job opportunities on Twitter and Instagram.
Not only that, but your social media profiles are being looked at by hiring managers. Employers want to get to know the real you to make an informed hiring decision.
Did you know that Liberty Staffing Services is on Facebook? If you're looking for work, and want to know what type of jobs we offer, follow us!
Here are a few other great reasons why you should follow Liberty Staffing on Facebook.
1. We Have a Page for Each Branch Location
Whether you're looking for a general labour role in London, or an administrative position in Mississauga, Liberty Staffing can help. Liberty Staffing Services has 9 branch locations across Ontario. Here are our Facebook pages for each of our branch locations: Brampton, Cambridge, Guelph, Kitchener, London, Mississauga, St. Catharines, Stratford, and Woodstock. Click on the branch location most convenient for you, and follow our page.
Each of our Facebook pages is specific to the branch location, offers news, and advertises available jobs in the area.
2. Post Job Opportunities
Facebook has this great built-in feature which allows you to search through local job opportunities, and apply with your resume with a click of a button. You can search through employment opportunities straight from your mobile phone.
As a staffing agency which actively posts our new job opportunities daily, Liberty Staffing receives lots of great applications. We follow up with each candidate that applies with us on Facebook.
3. Stay Informed about Contests
By following us on social media, you'll have the chance to learn more about the contests that we offer. For example, we're having a branch-wide Employee of the Month Contest in 2020. If you work for us, and you have great attendance, you'll be entered into a draw to win a $50 President's Choice gift card from us.
4. Attend Events
Looking to attend a job fair? Liberty Staffing Services regularly hosts job fair events. In fact, we just had a branch-wide Hiring Event in the fall of 2019. This year, in the spring, we are planning to have another Hiring Event. Follow us on Facebook to keep up-to-date on our events.
We hope that you'll follow us on Facebook today! Contact us if you have any questions. Liberty Staffing connects great people with great jobs!