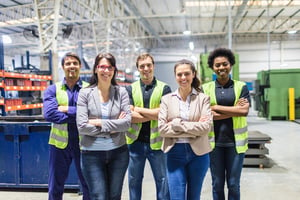 The holiday season will soon be here, and with it comes increased demand for many businesses. To keep up with demand, many employers need to hire more workers. Many of these new hires will be temporary workers, who will stay with the company during the busy season and leave when operations settle down again.
While many industries make use of temporary workers, there are a few that stand to benefit the most from hiring temporary employees during the holidays. These four industries are some of those with a lot to gain. If your business belongs to one of them, you should be thinking about seasonal and temporary hires for your business.
1. The Retail Industry Relies on Temporary Workers
The first industry anyone thinks of when it comes to temporary hiring for the holiday season is retail. For businesses in the retail industry, the holiday season is typically the busiest time of the year as consumers ramp up year-end buying. Some businesses make or break their year in the three months from October to December.
To cope with the increase in sales volume, many retail businesses find they need to hire more sales associates and customer service representatives. They may even need additional help stocking shelves or in their warehouses. Temporary jobs for the duration of the season can help you get the assistance you need.
2. Warehousing, Shipping, and Couriering Pick Up Steam
Warehouses and couriers note added demands during the holidays. People mail more cards, buy more online, and ship parcels all over the world to reach friends and family. Shipping also picks up as retailers place more orders to satisfy consumer demand.
Temporary workers can help here too, covering extra shifts or providing additional hands to make the work go faster and get those shipments out the door.
3. The Hospitality Industry is Booming
Another industry that picks up significantly during the holiday season is hospitality. People book trips and getaways during this time of the year, increasing demand at hotels. Others host special events, like holiday parties, and still others do their entertaining by heading out to a restaurant. Caterers are often busy, as are restaurants, and event venues.
Additional help is needed in this sector, and temporary workers can help fill in the gaps.
4. Industrial Work May See More Demand
Who makes all the products being shipped and going into stores? In many cases, it's the manufacturing sector. This industry also supplies other businesses with machines, parts, and other materials and equipment.
Some businesses in manufacturing will no doubt see a rise in demand as the holiday season rolls around. In order to meet the increased demand, they may need to step up production. In turn, they may need to hire temporary employees to cover additional shifts, and keep operations running smoothly.
These are by no means the only industries that will benefit from hiring temporary workers this holiday season. If you're in need of temporary workers, get in touch with Liberty Staffing to see how we can help you find the right people for your business.