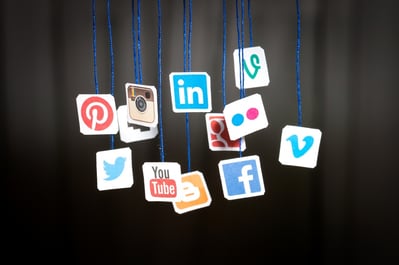 Social media gives you the ability to stay connected with others whenever and wherever you are. Whether you are trying to contact a friend within the same city, or a family member across the world, social media will link you. All you need is technology and an internet connection.
In a world that is so fast-paced and information-driven, social media platforms have become multifunctional. Did you know that social media can be a great tool to use when searching for employment? If you are looking for work, searching for a job through social networks can be a good idea. Social networks will provide you with job details and application information quickly and efficiently.
At Liberty Staffing Services, we use social media platforms to connect with our applicants, employees, and clients. In fact, we post many of our job opportunities through social media. Here are four social media platforms that can help improve your job search.
1. LinkedIn
LinkedIn is the number one social networking platform which millions of people use to find employment. This may not come as much of a surprise, as LinkedIn is a business-focused and professional networking service. To put it in the simplest terms, LinkedIn is basically a digital version of your resume.
Liberty Staffing Services has a business page on LinkedIn. We post our company blogs and many job opportunities. Follow us on LinkedIn to receive updates regularly. We also encourage you to create your own LinkedIn account.
2. Twitter
The great thing about Twitter is that there is a 140 character tweet length, which keeps it short and sweet. Twitter provides you with the important information about a job opportunity, so you know that the details given are vital. There's no fluff or pageantry. This is great for candidates who want the facts quickly.
If you are looking for a variety of different job opportunities quickly, follow Liberty Staffing Services on Twitter. We tweet about new job opportunities and upcoming job fairs on a regular basis. Follow us today!
3. Facebook
In its early days, Facebook was a social media platform strictly used for staying in touch with friends and family. Presently, Facebook has changed and evolved into something much greater. Facebook is perfect for job searching. Unlike Twitter, there are no character limits on Facebook, which means that employers have the ability to post detailed job descriptions, or keep things short and sweet. This is perfect for job seekers who want a little more information about job opportunities before they decide to apply.
Did you know that Liberty Staffing Services has a Facebook page for each of our office locations? It's true! We have ten office locations across southwestern Ontario (specifically Arthur, Brampton, Cambridge, Guelph, Kitchener, London, Mississauga, Stratford, Waterloo, and Woodstock). We post about new job opportunities daily. Follow a branch most convenient for you.
4. Google+
Google+ (or Google Plus) is another great platform to look into if you are job seeking. Liberty Staffing Services actively uses Google+ to promote our business and job opportunities. This platform is a social network from Google. If you have a Google+ profile, follow Liberty Staffing Services.
If you are looking for work, we encourage you to sign up to Liberty Staffing's various social media networks. Liberty Staffing Services provides temporary, temporary to permanent, and permanent employment opportunities in office, warehouse, and industrial sectors. We would love to connect with you!