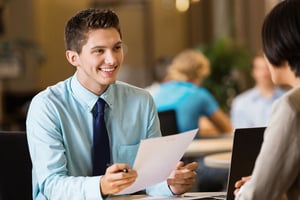 Canadians are highly dependent on the weather and seasonality. Winter is certainly a concern, even in employment. A great example of seasonal trends in hiring is the construction industry, which winds down when winter weather sets in and ramps up again when the snow melts.
No matter what industry you're in, you're affected by seasonal trends in hiring. Most experts note two "hiring" seasons in Canada, which occur in the spring and the fall. Winter and summer, by contrast, tend to be slower.
There's still hiring going on at these times of the year. In fact, summer can be a busy season for hiring managers. You may look to fill new roles, to hire temporary workers to cover vacations, or to keep up with demand. Temporary work is very common during the summer months. Here are a few summer hiring trends to keep an eye on in the coming months.
1. The Job Market is Strong
There were some fears that Canada was going to witness job losses in 2018. After posting the lowest unemployment rate in 41 years in December 2017, job growth took a plunge in January 2018 with the economy shedding about 88,000 jobs.
Despite this, however, the job market has remained relatively strong, even in Ontario where the minimum wage hike was projected to reduce demand for labour. Instead, the Ontario job market has been quite strong. Ontario alone added 10,000 jobs in March, and many of the postings currently available are for temporary and seasonal staff.
This seems to be part of a larger trend. Retail giants have announced they're going to add seasonal staff across the country over the course of the summer. In this environment, employers will face stiffer competition and job seekers may have more opportunities when it comes to accepting employment offers.
2. Certain Industries Hire More
When it comes to summer hiring trends for temporary workers, you can count on certain industries to hire more summer help than others. For example, no one would expect a ski resort to hire more in the summertime, but a golf course would certainly need more hands in the summer than they do in the winter.
Retail often experiences an uptick in business during the summer months as people are out and about more. Warm weather and long hours of sunshine mean people shop longer and are more inclined to buy.
That said, almost any business may be hiring temporary workers during the summer. Despite conventional advice, summer can be a great time to look for a temporary employment arrangement.
3. Employers Seek Highly Trained Professionals
When you think of "temporary workers," you probably don't picture human resource professionals, computer programmers, or other highly trained professionals. With the gig economy now in full swing, however, many employers are seeking out these individuals for temporary and contract assignments.
On the other side, many of these professionals use the gig economy to their advantage, working with different employers to complete assignments before moving onto the next. Temporary workers may also be knowledgeable recent graduates gaining experience in their field.
4. Spaces for Students
Another reason temporary work experiences an increase during the summer months is many businesses hire students. They hire with the understanding these workers will head back to school in the fall or otherwise move onto permanent employment elsewhere.
If you're a student seeking a summer job, you may want to check into temporary work opportunities. Apply to Liberty Staffing today to get started!