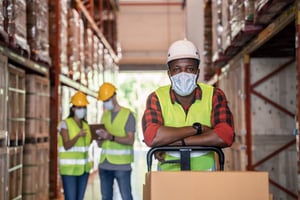 After months of lockdown due to COVID, many people are ready to get out of their home and back to work. Whether you were working from home, or you were laid off over the last few months, you may feel more than ready for a change of scenery.
A warehouse job could be just what you're looking for. These jobs are always in high demand, as warehouses keep stores and others stocked, even in times of crisis. With the holiday season on the horizon, warehouse positions may be more plentiful than ever.
Looking for a job? Let Liberty Staffing connect you to the jobs you want. Apply today!
What kinds of positions are available? You might want to consider any of these four roles.
1. Shipper/Receiver
Shippers and Receivers are some of the most in-demand workers in any warehouse operation. Shippers ensure everything scheduled to leave gets on the right truck heading to the right destination. Receivers, by contrast, will ensure everything that arrives is unloaded and accounted for, before they send the product to its appropriate storage location in the warehouse. Some warehouse operations combine these two roles.
Shippers and Receivers have similar responsibilities, and they often have similar skill sets. They need an eye for detail, as they check order statements, packing lists, and invoices against each other to make sure everything that was supposed to be in the order is there.
They also must have excellent critical thinking skills and analytical skills, as they'll need to arrange shipping in many scenarios. They may be required to figure out how to get an emergency order to a store ASAP, without running up the shipping bill.
Finally, great communication skills are also a must. Shippers and Receivers will have to communicate to other warehouse employees, as well as logistics vendors and more.
2. Picker/Packer
Pickers and Packers are key roles in any warehouse operation. Pickers receive orders and move through the warehouse, picking up the items to go in the order. They'll need to follow a packing list and ensure everything is available.
Packers confirm that orders are all packed up the right way. They may be responsible for confirming all the items are together, for double checking the order is complete, and for making sure the order is packed in a way that will minimize damage during transit.
Some warehouses will combine these two roles, so that the person doing the picking of the order also packs the order. Pickers and Packers need excellent attention to detail, as well as good communication skills. They might have to communicate when items are not available.
3. Forklift Driver
Forklift Drivers are necessary in most warehouses. They help move pallets and skids from the loading/receiving dock, distributing them for placement on shelves, or storing them or loading them onto transport vehicles.
In some cases, Forklift Drivers may also need to assist with order picking. They could be required to retrieve items from high shelves safely. They might also play a role in inventory.
Forklift Drivers need both experience, and a licence. If you think this might be a good role for you, then you can start forklift training before applying for these jobs.
4. General Labour
Finally, you may want to consider a job as a General Labourer. This type of job is necessary in almost every workplace, and the warehouse environment is no exception.
General labour is probably the most varied of the jobs listed here. Your duties might include anything from cleaning to painting to other general maintenance around the facility. Some employers offer even more varied experience for General Labourers, allowing them to get practice at a wide range of tasks.
If you want variety, then a career as a General Labourer could be the right fit for you!
If you're thinking about a warehouse job for your next career, get in touch with Liberty Staffing Services now. We can help you find the right role!