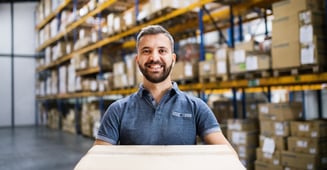 We are now well into 2021. People are getting vaccinated, and the country is slowly and cautiously moving along. While things definitely haven't returned to normal, there is light at the end of the tunnel. One of the major changes in manufacturing will be that the projects that were put on hold due to the COVID-19 pandemic, are going to need to be resumed in future.
Without quality workers, your manufacturing facility won't be able to recover fully. You may find yourself needing to train employees who have not worked in the manufacturing industry before or some who have worked in other sectors.
Download our whitepaper to see how we solve our clients' evolving staffing issues
Liberty Staffing Services is an independent staffing agency. Let's look at the four ways that working with a staffing agency will help you scale up production quickly and effectively.
1. Host Hiring Events for Qualified Job Seekers
Since the beginning of the pandemic, we've been hosting virtual hiring events to connect workers with employers. Whether online or in-person, hiring events create excitement around the job searching process. These events also attract highly motivated job seekers who are ready to work.
In order to get back to the height of pre-COVID production levels, your workforce needs to be full of qualified, talented candidates. Liberty Staffing can provide you with top talent.
2. Get Information About Your Job Openings to the Right Candidates
We can't overstate the importance of getting information about open positions in front of the right people. When a company posts positions on a general online job listing site, that listing is only seen by people who happen to search the site that day, week, or month.
Staffing agencies, on the other hand, have a wealth of tools and resources at their fingertips to ensure that postings are seen by qualified candidates who want to work in manufacturing.
3. Connect Employers with Temporary Workers to Help Fill the Gaps
Temporary workers are likely to be an essential and important part of your COVID-19 recovery plan. Hiring a temporary worker can help you cope with uncertainty, control costs, and test future permanent employees.
What's also beneficial is that a temporary worker won't stay longer than needed. When demand stays high and you need the extra help, you can extend the temporary contract without having to start the hiring process from scratch.
4. Help You Craft Great Job Descriptions and Draw Top-Tier Talent to Your Company
There is a certain kind of marketing that doesn't target buyers or consumers: it targets would-be employees. This kind of marketing is about showing potential workers what you have to offer.
Staffing agencies help you craft great job descriptions that capture the attention of workers rather than bland listings that people skim right past.
We hope that you're convinced that working with a great staffing agency is the way to go when it comes to ramping up production after the COVID-19 pandemic. Get in touch with Liberty Staffing Services today! We would be happy to help with your staffing needs.