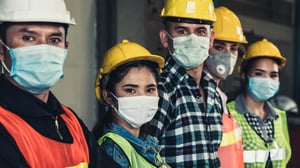 The COVID-19 pandemic has changed business as we know it. Some businesses have moved their workforce (partially or entirely) remotely. Essential businesses continue to work through the pandemic with strict safety measures in place.
Rules and regulations for essential businesses in Ontario are changing frequently. In this time of uncertainty, companies are relying more and more on staffing agencies to manage their staffing changes, and temporary business closures.
The success of your business, and the health of your employees, is our number one priority at Liberty Staffing. Here's how Liberty Staffing can help your company during the COVID-19 pandemic.
Provide You With a Temporary Workforce
Bringing on a temporary workforce is the key solution to supporting companies that are faced with staff members who are unable, or reluctant, to work during COVID-19.
Liberty Staffing Services provides temporary general labour, warehouse, and office workers throughout Ontario. In the upcoming months, Liberty Staffing Services can play a vital role in your business. A temporary workforce provided by Liberty Staffing can help with your fluctuating staffing needs during this difficult time.
No one knows when this pandemic will be over, which means that work assignment lengths for employees are uncertain. Hiring temporary workers is perfect in these situations. You can bring on temporary workers during this pandemic, work with them until the end of the crisis, and then decide to keep them on (if you have the need).
Qualified Workers Available
Liberty Staffing can provide you with qualified workers when and where you need them. We have a pool of candidates who are willing and ready to work for you during this pandemic. These candidates are students, international workers, workers who have been temporarily laid off during the pandemic, and people who just want to help out in any way that they can and earn money.
Fill Your Open Positions
Say your business is essential, and your permanent workers don't want to risk catching the virus, leaving you with the task of filling multiple open positions. Perhaps your company is producing hand sanitizer, or face masks to help prevent the spread of COVID-19, and you find that you need to hire more staff members. Liberty Staffing can help fill your open positions quickly, saving you time and money.
Health and Safety Practices
At Liberty Staffing, we know how important it is for staff members to be safe at work, and for workers to take health and safety measures/precautions seriously during this pandemic. For any temporary staff members that Liberty Staffing Services sends your way, we will provide them with thorough health and safety information, and we will brief them on the safety practices your company is taking at this time.
Our recruiters will also follow up with you (the client), and the temporary workers once they've started in their role, to ensure that these workers are abiding by Ontario's health and safety guidelines, and your company's standards.
Liberty Staffing can help your business thrive and keep moving forward during the COVID-19 crisis. Let us help you with your staffing needs. Contact your nearest Liberty Staffing branch location today for more information.