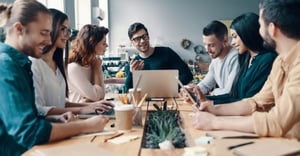 Communication is probably one of the most important and sought-after soft skills in today's job market. Employers are looking for people who communicate well, in a variety of situations. Email, text messaging, and more have made it easier for employees to stay in touch, even when they're on the road. The ability to immediately respond also makes it easier for misunderstandings to happen.
Download our whitepaper to see how we solve our clients' evolving staffing issues
If you've been concerned about your team's communication, or you've noticed an increase in misunderstandings and tension, then it's time to think about refining those communication skills. Luckily, it's easier than it sounds. Here are a few great ways to start improving communication today.
1. Create Communication Policies
Communication mishaps can occur because people have different expectations around communication. Someone might expect a very quick response to an email, while others may feel like three days is acceptable.
Some people may think it's okay to use chat speak in their messages, while others may find this unprofessional. Some like to send quick emails, while others prefer to take their time and craft an email to ensure their message is loud and clear. Tone, phrasing, and other issues also present challenges.
One way to address all these factors is to create communication policies. These policies can be written out for your team. They can then sign off on an agreement to adhere to them. In these policies, you can give them guidelines to follow, such as how quickly to respond, or whether chat-speak is acceptable in the workplace.
2. Provide Training for Communication
Everyone knows how to talk, and many people know how to read and write. In fact, these are often prerequisites for being hired into many positions. Still, people might not know how to communicate effectively with each other.
This can pose barriers, especially when feelings get involved. Someone might not realize the way they're communicating can appear rude to other people. Requests could be met with hostility. Others may struggle to communicate clearly through written means, leading to confusion.
Communication training can help your team learn to overcome these challenges. They could learn new ways to phrase requests to get more buy-in. They might pick up techniques that help them craft clear and concise emails. There may even be training available to improve the way instructions are delivered to your team.
3. Add Some New Tools
Your team can also improve their communication skills by adopting, and adapting, a number of new communication tools.
You could decide to adopt an instant messaging app, for example. Certain apps may have features that allow people to check in across worksites. Asking questions might be easier, as team members with expertise can chime in, and help get answers quickly.
Checklists and schedules are more formal tools that can help team members stay on task, as well as communicate their progress, or offer feedback. Some tools even allow you to hold quick video meetings or conferences, which offer another avenue for communicating.
Remember to create policies and procedures for using these apps. They're tools to help communicate quickly and effectively, so you want to be sure your team uses them this way.
4. Offer Opportunities to Practice
You can give your employees plenty of rules and advice, but practice makes perfect when it comes to communication. Run a workshop, or a series of training sessions, to let employees practice communicating with each other.
They can practice both written and oral communication. Ask them to send and respond to sample emails. Have them engage in one-on-one conversation, and demonstrate both good communication, and good listening skills.
With the right training, information, and tools, your team will be communicating with ease in no time.