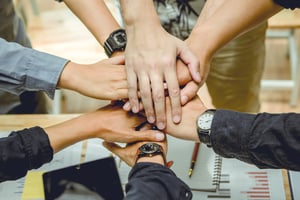 When working in the professional world, you have to work with a lot of different people. Sometimes personalities clash, especially if you are working within close proximity. In any work environment, you have to trust your coworkers, and respect them, in order to perform tasks successfully and for the company to succeed.
If you are a hiring manager, or supervisor, and you come across some friction between team members, you have to address the issue immediately between both parties, and suggest a common ground.
Here are some ideas to help your team get back on track. Use these tips to help improve teamwork in the workplace.
1. Recognize Good Teamwork
While you may provide recognition individually to your employees, don't forget to offer recognition in team settings as well. After all, without teamwork, production levels can stagger. The success of your business relies solely on your employees and how well they can work together.
Always recognize teams who perform well on the job. You can even offer incentives and prizes to teams who are efficient. Remember to switch up team members so that everyone has the opportunity to be recognized and awarded. Ideally, you want every employee to be able to work cohesively together.
2. Schedule Consistent Meetings
In many cases, an employee may feel frustrated because they are completing all the tasks, while others do not pull their weight. Tensions could run high in these types of situations. By holding consistent meetings (even if they are short meetings held once a week where you can delegate tasks, switch up teams, or provide new duties), your employees will appreciate it, and will probably feel a lot better in their working environment.
When your team members know what's happening, and tasks are delegated properly between each employee, this may help clear up some issues.
3. Lead by Example
Teamwork starts with you. Since you are the person that all of these workers look up to, you should be a great role model to your staff. Treat every employee with respect, dignity, and encourage and nurture your employees to grow within their roles. Your ultimate goal, as a manager, is to have these employees succeed and to move up in the company.
Teamwork is all about respect, trust, and great communication. A company with a boss that does not partake in any of these harmonious methods is headed for disaster.
4. Create Space
Often micromanaging can be the cause of poor teamwork in employees, and can be a stemming factor for the downfall of any business. That's why it's always good to give your employees some space. Allow your employees to work in peace, and allow them the space to solve work-related issues as a team.
A good team should be able to perform tasks successfully on their own, with guidance from you, but don't be overbearing.
5. Host Socializing Events
Last, but certainly not least, host socializing events and company functions. This could be something big or small. For example, host an award ceremony. Or, offer to buy your employees lunch and you can get something to eat in-house, or go out to eat as a group. Host a potluck in which everyone has to bring in their favourite dish. Socializing events like these can be great ice breakers, and can create great morale between members.
Need more teamwork tips for your business? Contact Liberty Staffing today. We would be happy to assist.