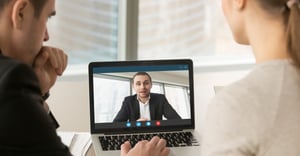 Stay-at-home orders have changed many things in recent months. Even as they begin to lift, many employers are observing new procedures and protocols they adopted. Remote work and social distancing are all designed to help employers keep their team members safe.
For many, this includes reducing the number of visitors in the office. Many employers have adopted virtual and phone interviews during the hiring process, and these are likely to stick around for a while, if not longer.
Looking for a job? Let Liberty Staffing connect you to the jobs you want. Apply today!
These tips will help you practice for a virtual or phone interview in the post-COVID future.
1. Test Your Technology
The first thing to do in any virtual or phone interview is make sure you know what technology the interviewer will be using. Some employers might offer you a choice, but most have their preferred apps. Even phone interviews could be conducted via programs like Skype or Zoom.
If you have an interview lined up, ask what app will be used. Then make sure to set up the program on your device. Also double-check that you have the latest version installed.
Next, test to make sure the app works on your device. If you're using Zoom, for example, set up a Zoom call with a friend or family member to see how the app is operating. You should also test your internet connection at the same time.
This gives you a chance to sort out any potential technology issues. Some employers will scrap candidates if an interview goes poorly for technology-related reasons, so be sure to have everything in good working order.
2. Find the Right Spot to Set Up
Video interviews need to be conducted in the right space. If your internet connection is weak, this can make your choice more difficult, as you may have to sit closer to the router.
You should find a quiet space with good lighting, and a neutral background. If you're using an app like Zoom, make sure you've turned off the backgrounds before you sign in.
You might need to find a good place to set up your device, so it's at the right height. Adjusting where you're sitting could also help. Tidy up the area, so that it's free of distractions. You can also play with the lighting to give a better video feed.
3. Get Used to Talking to a Screen
Calling a friend or family member lets you get used to talking to a screen and focusing on another person. If you are able, roleplay with this person so you can practice the entire interview.
You could ask them to go through some of the most common interview questions with you. If your interviewer has sent you questions in advance, use this list to rehearse your responses. In some cases, you may be asked to send a pre-recorded interview. Recording a practice interview could be helpful, as you can review your delivery, position, and body language, as well as your responses.
Remember to focus on your body language as well. If your connection is poor, you might want to minimize gestures. Practice speaking a little slower as well.
If you're taking a phone interview, remember that your interviewer can't see you. Body language and gestures are less important than tone of voice.
4. Be Prepared to Take a Test
Employers are currently using screening tools to complement their interviewing. You could be given a written test, or an assignment to complete, in addition to taking the interview.
If this must be completed before the interview, make sure you have it submitted. Be prepared to discuss your results.
In some cases, you may be asked to complete an in-person test, particularly for skills like welding. Follow safety precautions, pay attention to protocols, and practice social distancing.
With these tips in hand, you'll be ready for your next remote interview. Liberty Staffing wishes you the best of luck!