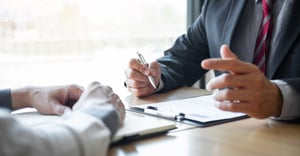 If finding a new job is one of your New Year's resolutions for 2020, you may already be dusting off your resume and applying for positions.
Looking for a job? Let Liberty Staffing connect you to the jobs you want. Apply today!
Before you can be hired on though, you'll need to go through the interview process. At Liberty Staffing, some of our clients request that you come in for an interview.
For most job candidates, the interview is a nerve-wracking experience. It doesn't have to be. Master these five skills and you'll be ready to "wow" your interviewer.
1. Learn the Art of the Pre-Recorded Interview
Pre-recorded interviews are becoming increasingly popular, especially as video conferencing technology has become more accessible. In a pre-recorded interview, you'll be given a set of questions to read and respond to. Each response will be timed, so you must answer questions succinctly.
Pre-recorded interviews can be tricky, both because of the technical aspects and the time constraints. Check your equipment beforehand, and position the camera well. The right lighting also helps.
Be sure to make eye contact and smile. If you have the questions in advance, it may help to run through them a few times so you know what you want to say. You don't want to appear robotic, but you do need to say what you need to say in a limited timeframe.
2. Work on Interpersonal Skills to Build Rapport
One of the reasons people feel intimidated by interviews is that they see the process as one of judgment. You enter the room, and the interviewer judges you.
Does the situation change if you view the process as one of building rapport and relationships? You don't necessarily want to be best friends with the interviewer, but you are being given an opportunity to connect with them. Consider them as someone you'd like to add to your professional network.
To help with this, work on your interpersonal skills. Being able to respond to the interviewer's emotions is key to demonstrating emotional intelligence. Good communication also involves active listening, so work on these skills as well.
3. Prepare Answers Ahead of Time
Unless you're conducting a pre-recorded interview, you may not have a list of questions your interviewer is going to ask you. You can still work on preparing some answers.
Do a bit of research, and discover the common questions asked of people interviewing for this role. You can also work on lists of the most common interview questions, or variations of these questions.
This will help you clarify your talking points, and avoid common missteps. In turn, you'll be able to give more fluid answers to almost any question your interviewer decides to ask.
4. Demonstrate Your Understanding
One of the best things you can do in a job interview is show your understanding not just of the role, or the business, but its place in the big picture. If you're going to work on the assembly line, for example, you could demonstrate knowledge of how this role supports others in the company.
If you work in operations, discuss how your work supports other departments. You could also speak about the business as a whole, and how it fits into its industry or sector. Is this one of the largest players in the market, or are they independent?
Demonstrating that you understand how you fit into this business and your knowledge of the business as a whole can showcase that you've done your research, and that you're interested in more than just a paycheck.
5. Speak Clearly
If you're nervous, you might have trouble speaking clearly. Some people are soft spoken, or tend to mumble. In an interview, speaking clearly, with confidence is important.
Practice speaking in front of family members, or a friend. You can also practice in front of a mirror. Try to use strong language, and leave out qualifiers like "maybe."
Don't forget to ask a few insightful questions of your interviewer too.
With these tips, you'll be well on your way to mastering your interview. We hope that you ace your interview! If you have any questions, contact Liberty Staffing today.