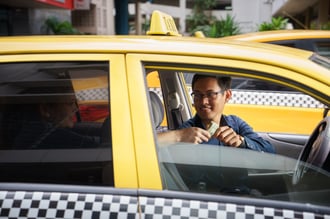 Liberty Staffing Services staffs office, warehouse, and industrial positions in temporary, temporary to permanent, and permanent opportunities. We have many employment opportunities available within Ontario. When you first apply with our agency, Liberty Staffing asks of your desired work location, and if you have a driver's license and access to a vehicle. It is the assignment employee's responsibility to find the appropriate method of transportation to and from a scheduled work shift. We wish the greatest success for all of our assignment employees. Liberty Staffing Services would like to suggest possible transportation methods to a job.
1. Drive
If you have an Ontario driver's license and access to a vehicle, you may drive to the job.
For those who do not have a license or a car, continue reading for alternative transportation methods.
2. Take the Bus
Many of our job opportunities are accessible by public transportation. Taking the bus is a great alternative for those who do not have a car. You can look online for information regarding bus routes and schedules. Our staffing representatives would be happy to help you find the appropriate bus route. Contact one of our offices today!
Depending on where you live and the location of the job, there may be no accessible bus route. If your main source of transportation is taking the bus, Liberty Staffing Services would like to suggest other possible ways to get to work. For instance, you can call a cab, ask someone you know for a drive, or carpool with coworkers.
3. Call a Cab
If you do not access to a vehicle, or if you are not able to take the bus, we suggest calling for a cab. There are many different cab services out there with affordable pricing.
4. Ask a Family Member or Friend for a Lift
Ask a family member or friend if they would be able to drive you to work. In return for this favour, you may offer them a nice gesture in return.
5. Carpool with Coworkers
There is always the option of carpooling with your coworkers. Carpooling is a great way to save on money, and the environment. If you have made some close friends at your place of employment, and if they have a similar work schedule to you, we suggest carpooling.
No matter which transportation method you choose, always remember to be safe. If you are running late to work, or if you will miss your shift, please contact Liberty Staffing in advance. Liberty Staffing Services wishes the best for all of our assignment employees.