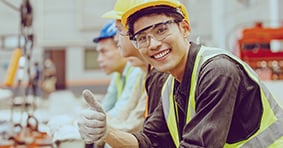 Flexibility is often at the top of the list of priorities when it comes to summer jobs. If you're a student looking for full time summer work, you probably want to find something that pays well but also gives you the option to choose a shift time that fits your schedule.
At Liberty Staffing, we help people find temporary and permanent jobs, including great positions that have flexible shift times of day, afternoon, or nights.
If you're looking for flexible summer work this year, let us know. We can help!
In the meantime, here are 5 flexible summer jobs to consider this season.
1. Material Handler
Warehouses and factories are often booming industries in the summertime. It's when students are off from school, and professionals start taking vacations. That means that warehouses and factories that specialize in, for example, outdoor summer gear or equipment, will require extra staff to meet increasing order demands.
A material handler assists with the processes of picking and packing customer orders, and inventory management. Sometimes material handlers are trained on operating a forklift as well.
A material handler job is an amazing summer opportunity!
2. Factory Work
Manufacturing is a great industry for both summer workers and manufacturing professionals. Plus, if you get your foot in the door with a temporary summer job at a manufacturing facility, you will gain valuable career experience that can earn you a permanent position in the future.
Liberty Staffing has many great manufacturing jobs currently available! Check out our job board and apply with us today!
3. Automotive Assembly
Automotive assembly is a great option if you like cars/automobiles. It's a great job option for students who are on summer break from school and want to get into the automotive industry.
Not only that, but if you enjoy repetitive work, where you have steady hours and are valued as an employee, you'll love working as an automotive assembler.
4. General Labour
General labourers do a variety of jobs on-site for a variety of employers, including factories, warehouses, schools, construction companies, and more. Many employers need labourers year-round, but they tend to have several open positions in the summer.
Working as a general labourer keeps you active and gives you valuable job experience for a permanent career later on down the road.
5. Warehouse Associate
Warehouses often scale up their workload in the summer and need additional staff to manage the increase. That's where summer employees come to the rescue. Warehouse associates perform a variety of tasks assigned by their supervisors, including picking and packing orders, loading shipments, and managing inventory.
How to Find a Flexible Summer Position
Sometimes when you're looking for a job, it can be hard to know where to start.
Liberty Staffing is ready to help! Working with a staffing agency is a great way to find summer work because we already know who is hiring in your geographical area. Employers trust us to screen job candidates and help them find great people to join their teams.
If you're looking for flexible summer work, reach out to Liberty Staffing today! We are Southern Ontario's premier staffing agency. Instead of filling out application after application to try to find the right fit, let us know what kind of work you are looking for, and we can help you find the right employer!