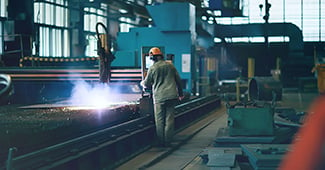 Manufacturing is a great career with lots of room for advancement. From entry-level jobs for people just starting in the industry to leadership roles in large manufacturing companies, this is an industry that is full of opportunity.
If you want to advance your manufacturing career, these tips will help you take those next big steps!
Liberty Staffing can help you get starting in manufacturing - or move to a new position with more opportunities. Contact us today to learn about our open positions.
How to Advance Your Manufacturing Career
Let's take a look at five proven strategies for advancing your manufacturing career.
1. Practice Manual Machining
Manual machining is a great starting point for people who are new to manufacturing jobs.
Every year, new technological advancements in manufacturing change the industry. That makes it easy to overlook the importance of manual machining, which is any form of machining that is controlled by hand (instead of using a computer).
Manual machining includes drill presses, bandsaws, grinders, end mills, and lathes.
Even though many jobs today require computer machining skills, being proficient in manual machining can prepare you for a variety of roles in manufacturing. Working with your hands teaches you a lot about the craft of manufacturing, and each of the skills you learn will prepare you for your next position.
2. Develop an Expertise in CNC Machining
CNC (Computer Numerical Control) machining is, in some ways, the opposite of manual machining. This is where most of the hands-on work of manufacturing is done today.
The more you can learn about CNC machining, the more jobs you will be qualified for in the manufacturing facility.
To develop this expertise, you can enroll in classes, start in entry-level positions, become an apprentice, or even watch training videos on social media.
3. Work On Your Leadership Skills
If you already have a lot of technical skills, it's time to focus on your leadership skills.
Leadership skills may include relationship building, critical thinking, conflict management, employee motivation, decision-making, creative thinking, adaptability, and negotiation.
These skills demonstrate to your supervisors that you are ready for the challenges that come with a promotion. How do you do this when you aren't currently in a leadership role? Well, one option is to ask your current supervisors or managers. Ask them what you can do to develop more leadership skills while working in your current position. They could have some great ideas! Plus, this conversation will make them take note of your aspirations.
4. Seek Certification
What kinds of certifications are available in your industry? For example, forklift certification can help you become eligible for more positions and get a higher rate of pay.
Additional certifications in manufacturing include Project Management Professional (PMP), Quality Engineer Certification, Certified Production Technician, CNC Lathe Certification, or Welder Certification.
One of the great things about manufacturing is that you can earn more than one of these certifications. The more certifications you have, the more productive you will be on the job – and the more you will stand out to your supervisors and managers.
Often, manufacturing companies will provide tuition assistance for certification programs, so be sure to check out your options to advance your manufacturing career!
5. Take Every Job Seriously - Including Temporary Jobs
We've worked with countless temporary employees who have gotten their start in the manufacturing industry.
Manufacturing makes for great temporary work because you can train for many of the positions right there on-site without any special experience before you get the job. When our temporary employees are committed to their new positions, they are often asked to come on board permanently.
If you take every job seriously, including temp work, you will get far more experience in the industry. Plus, you'll be able to impress your managers and make a great impression!
Liberty Staffing Can Help You Find a Great Manufacturing Position
If you're looking to start working in the manufacturing industry, Liberty Staffing is here to help! We provide opportunities to job seekers in Southern Ontario who want to kickstart their career in manufacturing.
You don't have to be brand new to manufacturing for us to help though. We also help people who are ready to find new opportunities, whether they are currently employed or not.
Contact Liberty Staffing today to learn more about how our services can help you find a great new position!