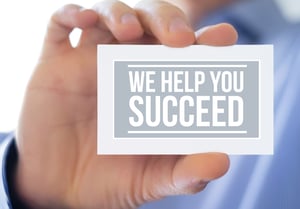 If you're in search of a job, you should be considering all of your options. For example, you can search online for job opportunities, attend job fairs, create a LinkedIn profile, and apply with a staffing agency in order to increase your chances of obtaining employment, and fast.
Unfortunately, some job seekers are deterred from applying to a staffing agency because of common misconceptions. Some believe that staffing agencies take a cut from an employee's pay, or that they only offer temporary work, or that they simply just don't care about their employees. This is not the case for Liberty Staffing. In fact, there are many great benefits of applying with us.
Here's why you should apply to a staffing agency, like Liberty Staffing Services.
1. Job Search on Your Behalf
When you apply to a staffing agency, you're allowing recruiting professionals to job search on your behalf. You will no longer have to sift through job advertisement after job advertisement, searching for the one position that fits what you are looking for. Recruiters do this on your behalf, for free.
Liberty Staffing has recruiting professionals with years of experience. Our staff knows the ins-and-outs of the job search and hiring process. Once you come in and apply with us, and let us know what type of work you are looking for. We can take it from there.
2. Listen to Your Requirements
The great thing about independent staffing agencies, like Liberty Staffing, is that we take the time to get to know you, and we listen to your job requirements. You are not a number that merely fills a staffing order, which, unfortunately, is the case for most larger recruiting corporations. Our goal is to make sure that we match you with your dream job.
3. Find You Work Quickly
In many instances, we've been able to offer work to candidates right on the spot, when they come in to register. Ideally, we would like to be able to offer all of our candidates employment instantly.
At Liberty Staffing, we try our best to find you work as quickly as possible. We know how stressful it can be to be without work for a long period of time. The bills keep adding up, and there's no money coming in. Liberty Staffing Services can help relieve that stress by helping you find work as quickly as possible.
4. Communicate With You Every Step of the Way
Liberty Staffing Services communicates with you during the whole process. We don't just find you work and send you on your way.
First, we try to help you find work. Then, once a position becomes available that fits what you are looking for, we offer you the position. If you accept the offer, we present you with the full details of the position and schedule you to go in. Our recruiters then follow up with you on a daily, and then weekly basis, to ensure that you are enjoying the position, and to make sure that you are happy and safe in your placement.
If we place you on a job assignment that you don't like, that's okay. Let us know, and we will look for something else for you. Having open communication is key so that we can find the right fit for you.
5. Help You Succeed
When you succeed, we succeed. You are an employee of Liberty Staffing, and you are representing our company. So naturally, we want you to succeed professionally. We will do everything we can to help you get to where you want to be in life.
For example, if we think you should update your resume, then we'll let you know. Our recruiters will let you know if you'll need to dress business casual or strictly professional for your upcoming job interview. We'll confirm your schedule, breaks, and when you will be paid.
We love it when our employees succeed. Liberty Staffing has had countless success stories of candidates who start out in entry level positions, and work up to a supervisory role.
Ready to apply with a staffing agency? Contact your nearest Liberty Staffing branch today and schedule an interview!