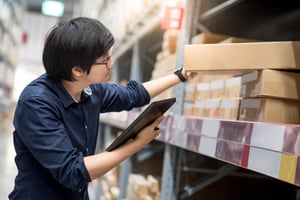 Summer will soon be here, and if you're a university student, that means working a summer job. If you haven't started looking for temporary employment yet, now is the time.
The first step you should take is consider what kind of job you want. There are a number of summer jobs for university students at Liberty Staffing Services, so be on the lookout.
Some of these jobs offer great pay, which can help you with school expenses. Others have good flexibility, meaning you can enjoy the summer months. Some can help you develop specific skills you'll need in your chosen field. Others will strengthen your good work habits, and help you better understand the professional world.
Before you start applying, think about one of these five types of jobs.
1. General Labour Positions are Good Summer Jobs for University Students
Warehouses are always on the lookout to hire seasonal workers for the summer because of high production demands. General Labourers could be required to do anything from packaging boxes, to order picking items, to assembling items.
The great thing about general labour work is that you have a high probability of gaining a general labour position quickly, and start working immediately. Depending on the position, the skills required, and the shifts available, general labour positions can pay fairly well.
2. Work as a Data Entry Clerk to Understand Big Data
Another great summer job for university students is Data Entry Clerk. Again, you may find employers who have created special summer projects or require vacation coverage.
Data Entry Clerks transfer information from paper forms and move data between systems and programs. This type of role could be a great introduction to how data is used in businesses today.
Data entry is performed in almost every industry. No matter what field you plan to enter when you leave school, employment as a Data Entry Clerk will help you develop the hands on skills you need.
3. Work on the Assembly Line for Hands on Experience
Almost any kind of manufacturing job will rank among the best summer jobs for university students. Employers in this field often hire temporary workers, especially if they encounter an increase in orders. They'll also hire for shift work, so you may end up with flexibility in your schedule.
Working on the assembly line, whether at an automotive plant or in a food processing operation, can provide you with great insight into business operations. If you want to understand how any business works, experience at the ground level provides you with a crash course in day to day operations.
It also gives you a chance to practice other key skills, such as communication and problem solving.
4. Shipping/Receiving is Key to the Economy
Whether it's moving by train, plane, or tractor trailer, products and goods are shipped all over the country. Shipping and receiving is vital in every industry, and that's why these jobs are so plentiful.
Like working on the line, working in shipping/receiving can help you understand the ins and outs of operations in any given industry. Working as a Shipping/Receiving Clerk also builds vital workplace skills, including organization, and communication.
5. Receptionists/Administrative Assistants Learn on the Job
Whether or not you plan to be a receptionist or administrative assistant when you graduate, you'll learn a lot from working this position for a summer or two. You'll need to communicate with customers and clients, plan schedules, stay organized, and much more.
These skills will serve you well almost anywhere you go.
If you're ready to apply for jobs, think about some of these great summer jobs for university students. Then get in touch with Liberty Staffing to find the perfect summer placement!