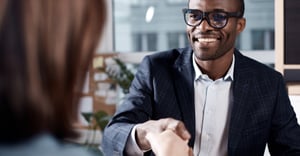 You probably know that first impressions count for a lot in the hiring process. After all, you yourself begin forming opinions about candidates the second they walk in the door.
Those same candidates are also busy forming an opinion of you when they enter the room. In today's candidate market, it's important to nail the first impression. You want every candidate to have a positive experience, even if they're not the person you ultimately hire.
Download our whitepaper to see how we solve our clients' evolving staffing issues
At Liberty Staffing, we want you to find the right person for your open position. First impressions are everything. If you're wondering how you can impress your interviewees, these five tips are for you.
1. First Impressions Start with Email
A job candidate may not be able to hear your voice, or see your face through email, but they're still forming an opinion of you as they read the words you wrote.
In some cases, your note will be accompanied by your picture, so be sure to use an up-to-date headshot. Your picture should be clean and professional.
Next, think about your tone. An overly professional tone might be cold and unwelcoming. Job candidates may feel that you're being overly formal. On the other hand, a tone that's too casual could leave them with the impression you're not professional enough.
The timeliness of your communications also plays a role. If you don't respond quickly, job candidates might believe you're disorganized or uninterested.
Once you invite someone for an interview, be sure to provide the information they'll need. Confirm who they'll interview with, and provide directions to your building.
2. Pick a Good Interview Location
Put some thought and effort into where you'll meet with job candidates. Interviewing someone on the factory floor probably isn't a good idea. A crowded café, or the cafeteria at lunchtime are other spots where you'll struggle to hear the candidate.
If you can invite the interviewee to an office, or meeting room, be sure to do so. This quiet setting is better for a one-on-one conversation, and being able to close the door means you're able to keep the conversation confidential.
3. Make a Schedule and Stick to It
Interviews take time, and both you and the job candidate are busy. Respect that by making a schedule and following it. If you plan to spend 40 minutes asking questions and another 20 letting the candidate complete a test or assignment, communicate the plan.
Then stick to it. It can be tempting to ask more questions, and some candidates have a tendency to ramble.
If you're going to be late, communicate that as soon as possible. If you're not sure how long you'll be or you're behind more than 10 minutes, give your colleagues the go ahead to start the interview without you. To avoid this situation, be sure to schedule interviews far enough apart, and block off time beforehand so you can be sure you're punctual.
4. Be Prepared
Blocking off some time before an interview also gives you a chance to prepare. Take another glance through their resume, then print it off and bring it with you to the interview.
You should also have your own discussion points ready. How would you sell your business to this candidate? What benefits will they realize if they decide to join your team? Knowing in advance what you want to say and represent your company will help you communicate clearly and effectively.
5. Avoid Distractions
Suppose a candidate was checking their phone during your interview. What message would they be sending you?
You'd probably think they were bored or uninterested in what you had to say.
If you wouldn't want the candidate to do it, you probably shouldn't either. Try to avoid distractions, such as phones and emails, as much as possible. Being attentive to the candidate conveys your respect for their time.
If you're ready to make new hires, get in touch with us at Liberty Staffing. We'll help you find the right people.