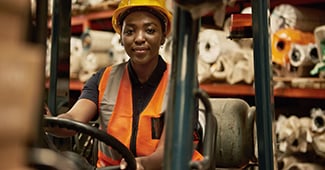 According to Workopolis, Canadians will work an average of 15 jobs during their professional career. If you have been thinking about changing jobs or careers, you're certainly not the only one!
A lot of people go into industrial, warehousing, and manufacturing jobs because they want to do hands-on work, develop an area of expertise, work on-site with a collaborative team, and enjoy the consistency of these kinds of jobs.
However, many people don't realize just how many kinds of careers are available to them in these industries.
Contact Liberty Staffing to find out how these industrial positions may be a great match for your job history and career goals.
Here are 5 industrial jobs that you might not have realized are options for you!
1. Forklift Operator
Forklift operators are an essential part of numerous warehousing and industrial operations. Ontario doesn't require all forklift operators to have a license, and employers will train you on-site to operate a specific type of forklift.
Getting a license is still a great idea though, because it makes you a more desirable new hire. Whether a company is looking for a full time, part time, permanent, or temporary forklift operator, seeing a licensed forklift operator among the applicants is always going to work in that job seeker's favor!
2. Material Handler
Material handlers work in inventory management. They often operate forklifts and perform the tasks of picking, packing, and sorting inventory.
This is a great job for people who love to operate machinery. In addition to forklifts, material handlers sometimes get to drive pallet trucks, lift trucks, and cherry pickers. These are excellent skills that can help you transition into a different career later on, as countless industries require inventory management.
3. Shipping and Receiving Specialists
Shipping and receiving specialists frequently find work in warehouses, but manufacturers often need specialists to fill these roles as well.
The role of a shipping and receiving specialist involves picking and packing orders, receiving shipments, managing logistics, and performing quality control tasks.
One of the great things about these jobs is that there are lots of opportunities for advancement. If you start in shipping and receiving, you can often quickly move into a leadership role, including shift management and warehouse management.
4. IT Jobs in Manufacturing
Informational technology specialists are in high demand across countless industries, including manufacturing and warehousing.
Manufacturing IT involves tech support for office staff, running automation software, working with AI, and maintaining complex industrial software systems.
Many IT professionals think of going into an industry like business or education without realizing about the incredibly high demand for their skills in industrial positions.
5. Quality Control Inspectors
Another great position in the industrial field is quality control.
The day-to-day responsibilities of a quality control inspector can vary from industry to industry, but their main goal is to ensure that the product or service a company produces meets the standards of that industry.
In manufacturing, a quality control inspector tests the quality of any products manufactured at that facility. This can include inspecting raw materials, works that are in-progress, and finished products.
How to Find a Great Industrial Job
First, check out our blog post that helps prospective industrial workers figure out if these jobs are the right fit for them.
When searching for an industrial job, one of the best things you can do is go through an experienced and well-respected staffing agency. At Liberty Staffing, we have been working with employers in Southern Ontario for 24 years! Many of those companies hire industrial workers for jobs in manufacturing, warehousing, and more.
We match job seekers with great companies, and we only consider ourselves to be successful when these matches work out great!
Working With a Staffing Agency to Find Temporary or Permanent Work
Whether you're looking for permanent or temporary work, a staffing agency is a great first step.
We help people find temporary positions so that they can try out a new industry or a new position and make sure it's a great fit before committing long term to a specific career. Often, these temporary positions turn into permanent ones!
Staffing agencies help people find part time and full time positions, as well as seasonal work and positions with flexible schedules.
Liberty Staffing: Southern Ontario's Trusted Staffing Agency
We can't wait to help you find a great new job – maybe even in one of the positions we've mentioned here!
Let us know what you're looking for, and we can share our expertise to help you get there.
Contact Liberty Staffing today to learn more about how working with a staffing agency can help you make the career change you've been waiting for.