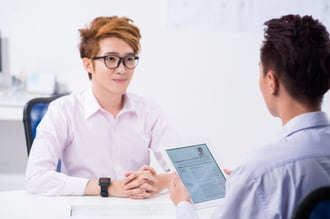 As a job seeker looking for an entry-level position, having some helpful job interview tips can help ensure that you start your career journey on the right foot. Whether you're looking to work your first job ever, have just graduated from college and are looking for your first job in your field, or have decided to change career paths, these job interview tips for entry-level candidates can help ensure that you ace your interview with your target company.
Tip #1: Be Prepared
Whether this is your first interview ever or you are an experienced interviewee, you need to ensure that you always go in prepared. Being unprepared will not make a good impression—it's going to be obvious to your interviewer. Make sure to gather up your up-to-date resume, degrees, certificates, portfolio, references, and other documents as required. Make a few extra copies of your resume just in case you have several interviewers. Simply being prepared with the right papers will make you look responsible, organized, and committed to getting the job.
Tip #2: Research the Company
Want to make a good impression? Then one of the most important job interview tips to remember is to do your company research ahead of time. Scour the company's website to learn more about its mission, values, and work environment. Read up on any news articles about the company. Come from a position of knowledge and you'll be sure to show the interviewer that you're serious about the job.
Tip #3: Dress to Impress
The way you present yourself in an interview can make all the difference in the impression that you make, so dress appropriately for the job. You might not need a suit and tie to interview for a warehouse job but you will need to dress sharp to get an entry-level office position. Make sure your clothes aren't wrinkled, dirty, or ill-fitting. Consider shaving or getting a haircut, taking out facial piercings, and covering up tattoos.
Tip #4: Body Language Matters
Fifty-five percent of communication is made up of body language, 38% is made up of tone of voice, and only 7% is made up of actual spoken words. So make sure you pay attention to what you're saying with your body language and tone of voice. You might not realize that the way you're sitting, the expressions on your face, and what you do with your hands as well as how you speak can have a big effect on your interviewers' perception of you. Here are some body-language job interview tips: lean in slightly to display interest when your interviewers are speaking, talk with your hands to look assured, give a firm handshake to display confidence, keep good eye contact, and make affirmative movements like nodding or smiling to show your interest.
Tip #5: Prepare for Common Interview Questions
Your interviewer might throw a curveball question at you—like "which do you prefer, Star Wars or Star Trek?" But there are basic questions that you're likely to be asked in just about every entry-level interview you go to. Preparing your answers ahead of time makes good sense so you don't stumble over your words, pause for too long, or give an answer that's too vague or short. Preparing can give you confidence and make you sound more articulate.
Here's a list of common interview questions:
Tell us about yourself.
Why do you want to work for X company?
Where do you see yourself in five years?
What are your strengths and weaknesses?
Why should we hire you?
Finding a job is a stressful task. And most job seekers are nervous when it comes to the interview portion of the hiring process. Use these five job interview tips above so you can ace your next interview and make your dream job a reality.