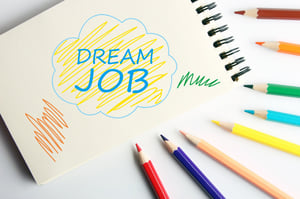 Having a dream is great, especially when it comes to your career. Many people have dream jobs that they would love to pursue. So why don't more people pursue their dreams and land the job that they've always wanted? There may be many obstacles which deter people from pursuing their dreams. Obstacles like the fear of failure, or financial instability.
So how can you make your vision a reality? Liberty Staffing Services would like to provide you with some helpful tips.
Set Goals and Deadlines for Yourself
Having a dream is one thing, but making that dream a tangible concept can be the hard part. Goal setting will keep you on task. Set goals and deadlines for yourself. A good way to do this is by creating a vision board or writing things out in a large calendar.
Make the Pursuit Possible
Is your dream realistic? Compartmentalize and decipher which vision is most plausible and begin working on it. Treat this as a stepping stone process to build up to your ultimate dream.
Realize Your Potential
Self-doubt can be a main contributing factor which deters people from reaching for their dream job. You are your own worst critic. So when the time comes to make that career change, don't be so hard on yourself. Make sure that you realize all the great things that you have to offer. Dreams manifest from the strong belief that we can do something. So believe in yourself and realize your full potential.
Work with a Staffing Agency
The easiest thing that you can do to attain your dream job is work with a staffing agency. Staffing firms will help you achieve your dream job. Staffing firms have hidden network connections, unlimited resources, and the skills to place you in the right position.
At Liberty Staffing Services, our goal is to find the right career for you. We love when candidates have a vision and dream job in mind. We will work with your aspirations. After all, your happiness is important to us.
Apply to Liberty Staffing Services today! We will help you attain your dream job.