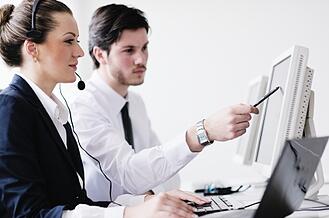 Making the decision to hire a temp worker for your office could be one of the best choices your business has ever made. However, it could also be a very unfortunate decision if you do not do careful research in advance. The quality of the temp workers that you hire and the amount of success you have in utilizing them depends on how well you screen the temp agency first. Here are the five most essential questions you should ask when you consider which temp agency to hire.
Who are your other clients?
A temp agency can give you a great sales pitch, but recommendations of other former or current clients is an even more effective testimonial to show whether a company is able to follow through on their promises. When you are looking to contract with a new temp agency, ask them if they can give you a list of their clients, past or present. A company that's proud of their reputation will be glad to share information, as long as they are not required to keep that information confidential.
What industries do you specialize in?
Hiring qualified temporary workers makes the difference in how successful the placement will be. Not all temp agencies are equal, and hiring a temp worker that is qualified for your specific industry is more likely to provide the results you're seeking. Choosing a temp agency that specializes in your industry means that the agency staff will have a better idea of how to screen for the most appropriate candidates. An agency that does not specialize in any industry will likely only have candidates with more generalized skills, which may not be sufficient if your company needs more unique skills.
How do you screen candidates?
Any agency can and likely will say that they have the most qualified and skilled candidates. After all, no agency wants to admit that they don't spend much time devoted to screening applicants. However, this is an issue where hiring a temp worker requires some real data from the temp agency. What type of screening process do they use for their candidates? Are they performing any type of skills testing? How extensive is their background check? The more intensive the screening, the more likely it is that you will get a well-qualified temp worker.
What is your fee structure?
Hiring a temp worker is supposed to be a decision that ultimately saves money for your office. However, you need to ask some questions about the temp agency's fee structure to make sure that their prices are appropriate and fair. Keep in mind that agencies that have a higher caliber of candidates may charge more, which is a fee that can be well worth it in the end if it saves a lot of hassle. Some agencies may have discounts or more affordable fee structures if you have multiple temp placements or will use the candidate for a longer period of time.
What other services do you provide?
Hiring a temp worker is about more than just locating a qualified short term employee. Temp agencies can provide a number of important services to help your office function more efficiently, including payroll management, succession planning, on-site human resources services, training, and composing job descriptions. Make sure to ask the temp agency about the bigger scope of what they can do to help your business.