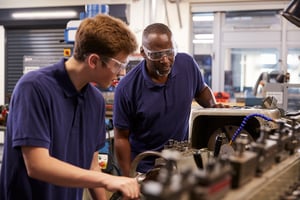 Are you a recent graduate, and unsure of what you would like to do in terms of your career? That's okay. Most people find it difficult to pinpoint their ideal careers. Many professionals end up changing careers at least once in their lifetime.
Or, perhaps you have an idea to get into warehouse/industrial work, but you're unsure if it would be the right career choice for you. Warehouse/industrial work is a fairly broad term, and could refer to a number of different positions. For example, Machine Operators, Warehouse Associates, General Labourers, Assemblers, Packagers, and Order Pickers, Shippers/Receivers, and Forklift Operators are just a few job titles under the umbrella term.
Liberty Staffing Services offers work in clerical, and warehouse/industrial fields. Here's how you can tell if a warehouse/industrial position is right for you.
1. You Enjoy Physical Work/Being on the Go
You're someone that doesn't like sitting at a desk for long periods of time. You enjoy moving around, working with your hands, creating or fixing things, and getting in the thick of things.
Common traits of a warehouse/industrial associate is enjoying physical labour, and constantly having to be on the go. If this statement describes you and your personality, then warehouse/industrial work is probably the right route to go.
2. You're Technology-Savvy
Technology fascinates you. You constantly seek advancements in technology, particularly when it comes honing your craft.
Professionals working in the warehouse/industrial, and even the automotive industry, are constantly working with technology. Technology helps in achieving production, and completing other tasks, easily and efficiently. They aid you in the field.
3. High Dexterity
You possess strong skills in performing tasks using your hands. Not only that, but you are nimble, and you're naturally knowledgeable of how things work. Taking on a new task doesn't scare you, because you know that your high level of dexterity will aid you.
4. Can-Do Attitude
Those in the warehouse/industrial world often have a can-do attitude. They're not afraid to get their hands dirty, and often take the first initiative when getting started with a task.
The great thing about warehouse/industrial work is that you can visual see how much work you have accomplished in a day. Seeing results is a great feeling, and can keep you motivated.
5. Possess Strong Reading and Math Skills
Some positions within a warehouse/industrial setting may require you to read blueprints, read a measuring tape, read an RF scanner, and/or measure ingredients etc., so candidates must possess strong reading and math skills.
If you possess any of these great traits, chances are that work in a warehouse/industrial setting is right for you! Many warehouse/industrial careers have the potential for growth within the company. If you're looking to grow from your role into a Forklift Operator, then there are certifications you can obtain to acquire this. Or, if you're ultimate goal is to become a manager or supervisor within a warehouse, there's always a possibility for that.
Need more career advice? Ready to get started and apply to a warehouse/industrial position? Contact Liberty Staffing Services today!