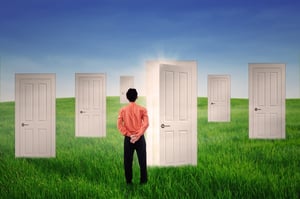 Finding a job can be difficult for even experienced and seasoned candidates who already know how to navigate the job market, but it can feel almost impossible for first-time job seekers, no matter their age. Being in the middle of this crossroad can be exciting, but it can also be confusing, stressful, and overwhelming.
Whether you're a homemaker looking to get into the workforce for the first time, a recent college graduate with your diploma in hand, or a young adult looking to earn extra cash during the summer, you could probably use a little guidance on your job search to ensure you're on the right path.
To make the transition into the workforce as simple and successful as possible, follow these five steps.
Step 1: Self-Assessment
Before jumping into the job search full force, take some time to assess your likes and dislikes, your interests, and your strengths and weaknesses. Choosing a job is a big decision, one that can support your happiness or make you miserable every day, so it's important to seek out employment in a field you think you'll enjoy. What are your interests? What could you see yourself doing every single day? Are you passionate about anything? Are you particularly good at anything? Would you rather be around people or would you be happier sitting in a cubicle? Finding a direction is the first step to entering the workforce. Don't skip this first step.
Step 2: Research
Now that you have some direction, you have a place to start, but don't let it give you tunnel vision. First-time job seekers should be open to job opportunities, companies, and industries that they might not have considered before. Perform some research and find industries, companies, and type of positions that match your likes, interests, and strengths. You should cast a wider net, but that doesn't mean you should settle on a job that you would hate. Just keep the options open.
Step 3: The Toolkit
All job seekers need the same toolkit: a resume, a cover letter, references, and a portfolio. First-time job seekers should write a functional resume—one that highlights their strengths and skills. Check out resume writing tips online and ask someone to review your writing to ensure accuracy.
If you don't have much in the experience section since this is your first job, consider adding in any summer jobs or part-time work you might have had, school activities, and volunteer work. If you haven't volunteered, this might be a good time to start.
Think about who you could secure as a reference: a teacher, a mentor, a coach, or a volunteer leader perhaps. Ask their permission to use their contact information.
Some jobs require a portfolio, like graphic design and copy writing. Gather up some samples.
Step 4: Network
Networking is a critical part of the job search but it's particularly important for those new to the workforce who might not have any job leads. Consider what resources you have: your schools' career placement option, your friends and family, your schoolmates, your former professors, or your neighbours. Send emails asking if they know anyone who might be able to help with advice, job leads, or interviews.
Step 5: Temping
Taking on temp work is an excellent idea for job seekers just getting into the workforce. Temporary placements have many benefits: you can gain new skills and experience for your resume, you can often find entry-level positions that don't require many specific skills, and you can jump from job to job learning about the different companies, positions, and industries that you might want to work for permanently in the future. Plus, temp work can help you get your foot in the door and help you get new contacts as well. A temp staffing agency can help you on your job search.
Entering the workforce can be a real challenge. Contact Liberty Staffing if you need help finding your first job.