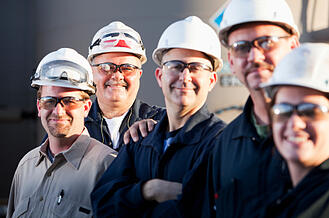 Being a temporary worker has its upside and downside. You get to try out new things, learn new skills, and meet new people, but you also don't have the stability of a traditional job. Some people get frustrated from being bounced from one company to another for just a few short days or weeks and their frustration shows in their job performance. No one wants to hire a resentful, unmotivated temporary worker with low morale, so it's important to be able to spot the personality traits and skills that make the best temporary workers so you can keep the duds out of your pool of candidates.
Here are five steps to recognizing the best temporary workers.
1. Positive Attitude
The best temporary workers have positive attitudes. They're not only ready for whatever is thrown at them, but excited for it. They want to meet new coworkers, learn new abilities, and see what might come from their new temp assignment. They're not afraid of change and are quick to adapt to new environments. They fit in well with existing business environments—they do their job without disrupting any workplace flow, exceed expectations, and don't get involved in any already occurring drama. They want to do their jobs well and be on their way to the next temp job.
2. Punctuality
The best temporary workers understand the importance of showing up on time for their assigned shift. When going from job to job, they know that starting hours will change, and routes to their new assignments will change. Good temp workers will figure out ahead of time how to get to their new workplaces and double check their ever-changing schedules so they're never late, or worse, end up missing shifts because they didn't carefully plan their schedules.
3. Legal and Safety Knowledge
Since temp workers are being given a variety of jobs and duties, they should have the legal and safety knowledge that comes with being a temp worker. There may be some on-site training, but a great temp worker will already know the basic health and safety regulations for the industry he is working in. He will also understand his legal responsibilities and rights in the workplace.
4. Ambition
Not every job a temp worker is hired for will be the same. It might require the use of different types of software programs, equipment, or specialized tools. Great temporary workers have the ambition to learn new skills to excel at their new positions—and they learn quickly.
Companies that hire temp workers don't want to have to train them from scratch. Ideally, great temps will already have these skills under their belt and are ready to start working on the first day. As a recruitment agency, it can be beneficial for you to create training modules for skills that your temp workers should have before they walk into a company's workplace. If your temp workers are unwilling to take part in your training process, they might not be worth keeping.
5. Flexibility
Flexibility is probably the most important asset a temporary worker could have. Going from job to job requires an open mind and a willingness to change and adapt—to different roles, schedules, and environments. A temp worker who is flexible will easily adopt new business practices, work hours, and processes without any problem. Great temporary workers aren't rigid in their thinking—they're flexible.
The best temporary workers share these five important attributes. These traits allow them to move from one job to the next without any difficulty, making them assets to any company they work for.