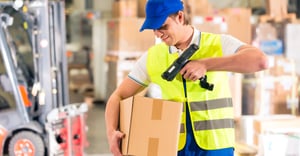 2020 has been a challenging year, and many people are looking for work. Whether you're looking to obtain a job as a primary income for you and your family, or you're looking to make a little extra cash for the holiday season, you're in luck with Liberty Staffing Services.
Even though the job market has been tight, and the holidays are going to look different this year, many of our clients are still hiring. We have plenty of temporary jobs available!
Looking for a job? Let Liberty Staffing connect you to the jobs you want. Apply today!
This general list should give you some ideas about what type of temporary jobs we normally recruit for during the holiday season.
1. Pickers and Packers in Warehouses
Warehouses are going to be busy this year, especially as more people switch their shopping to online stores.
That means there will be increased demand for Pickers and Packers. People in these roles move through the warehouse, collecting items to fill customer orders. They then gather everything up and double-check against a packing slip.
With a larger number of online orders coming in, more businesses will need all hands on deck in the warehouse to make sure orders are picked correctly and packed up in time for the holidays.
2. Packagers
The holiday season is one of the busiest times per year for packagers. Packagers are needed to make sure shipping and labeling is handled correctly, checking for defective items and keeping detailed records.
Many packagers this year have the extra task of cleaning packaging materials to ensure all that is shipped is safe and sanitized. More packagers are needed to help with these tasks and to keep up with increased demand.
3. Customer Service Representatives go Virtual
Customer Service Representatives are always in high demand, especially around the holidays. Normally, employers hire people to help with increased foot traffic in physical shops.
This year, retailers aren't anticipating the same rush. Instead, they're predicting that more people will turn to online shopping, or even placing phone and catalogue orders.
As a result, customers are going to need more support over web chat, email, and the phone. That means employers are still hiring CSRs in droves. These positions may be virtual and allow you to work from home.
If you love solving problems, or helping customers get the exact present they're looking for, this could be the right job for you!
4. Shippers, Receivers, and Other Logistics Staff
Logistics companies have faced a challenging year, just like everyone else. In some areas, they saw demand decrease. In other industries, demand increased.
With the holidays approaching, many logistics companies are bracing for increased orders. From the warehouse to the loading dock and beyond, everyone will be needed. As a result, many companies will be looking to hire Shippers, Receivers, and other key personnel for their operations.
5. Administrative Assistants are Always in Demand
Finally, you might want to consider a temporary job as an Administrative Assistant. Administrative Assistants have been in demand for the last few years, but some companies see an increased demand for a little administrative help at this time of year.
Administrative Assistants may help schedule customer appointments, which could be more difficult due to limited hours, customer limitations, and upcoming holidays. They can also help manage staff leaves and more, especially as people might want time off around the holidays.
Find a Job That Fits You This Holiday Season
No matter what your skill set and expertise, there's a temporary job for you this holiday season with Liberty Staffing Services. Get in touch with our team and gain the perfect job!