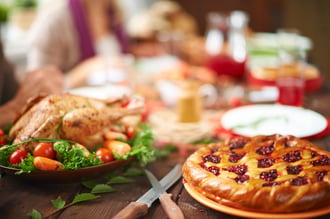 The province of Ontario has nine public holidays. Thanksgiving Day is considered as one of these public holidays. This year, Thanksgiving falls on Monday, October 12th. Liberty Staffing Services will be closed on Monday, October 12th in recognition of Thanksgiving.
Are you a current assignment employee of Liberty Staffing Services? If you are, you may be entitled to take the day off on Monday, October 12th and be paid for the public holiday. Most businesses within Ontario are closed Thanksgiving Day. People who are employed at hospitals, nursing homes, hotels, and restaurants may be required to work October 12th.
Liberty Staffing Services staffs office, warehouse, and industrial businesses in temporary and permanent opportunities. If you are unsure if you have time off on Thanksgiving Day, please contact Liberty Staffing in advance of the public holiday.
For general inquiries, please get in touch with Liberty Staffing following Thanksgiving Day. Our staffing representatives would be happy to assist you. Liberty Staffing's ten office locations will reopen for business Tuesday, October 13th at 8am.
Thanksgiving is all about spending time with family and friends, and being grateful for what you have. Liberty Staffing Services would like to provide you with some ideas on what you can do with family and friends this Thanksgiving.
1. Host a Dinner Party
This Thanksgiving, invite family and friends over for dinner. You can go all out and cook a traditional turkey dinner, or prepare something less formal.
2. Play a Friendly Game of Football
The weather forecast suggests warm weather over the Thanksgiving weekend. Play a friendly game of football outside with family and friends.
3. Bake
Thanksgiving isn't just about dinner. What about dessert? Spend the day baking cookies, pies, and other delicious treats with family and friends.
4. Play Board Games
Board games are great to play after Thanksgiving dinner.
5. Volunteer
Volunteer your time this Thanksgiving weekend at a food bank, soup kitchen, or clothing drive. Volunteering is a great way to show your gratitude, and help out and give back to people within your community.
Liberty Staffing Services wishes all of our assignment employees a safe and Happy Thanksgiving!