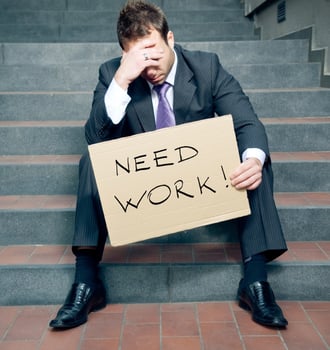 When you're on the job search, it's easy to get frustrated and exhausted. After all, it's tedious work, it seems never-ending, and sometimes it feels like you're not getting anywhere—that all of your efforts are wasted. You might want to quit and wallow in your self-pity.
If you've been looking for employment for a while without seeing any results, don't give up. You might just need to go at your job search differently. You might just be going at it all wrong. If you're doing any of the five following things, it's time to tweak your job search strategy.
Waiting
The waiting game is the worst part of looking for employment. When you've applied to a job that you really want, you might think it's better to wait to see if you get a reply instead of continuing on your job search. After all, it's the job you really want, so why keep looking elsewhere?
Unfortunately, waiting for replies can be devastating to your search. You're wasting time. You could be applying to dozens of jobs without a single reply—so stop waiting. Apply and move on. If you get a call, great. If not, you're already pursuing other opportunities, so it's not as big of a deal.
If you're really into a specific company, then follow up after you send your resume. Pursue more than one contact at the company, but whatever you do, don't just wait around.
Relying Solely on Job Boards
Sure, job boards are a great place for job seekers to check out open positions, but they shouldn't be your only avenue. Use social media sites like LinkedIn, check out specific companies' websites, look at your alumni website, and then, get off the internet completely. Talk to friends, go to networking events, and attend job fairs. Vary your channels.
Not Considering Other Options
The majority of people will only apply to full-time positions. You're boxing yourself in if you're not open to other types of opportunities. Freelance work, part-time jobs, paid internships, and temporary work can also be great for your resume, can get you contacts within your industry, can get you the skills and experience you need to find full-time work in the near future, can open doors, and can allow you to pay your bills while you keep looking for your dream job.
Not Being Committed
You should treat your job search like a full-time job. You can't just apply to open positions here and there during commercial breaks. Sure, it sucks to put in full-time hours to your job search when you're not being paid for it, especially if you've taken a part-time job or two to cover your rent in the meantime. But if you're not fully committed to the search, you're not going to get anywhere anytime fast. You need to put in the effort to search for openings, to research companies, to network with others in the industry, to go out for lunches, and to follow up. Even if you're feeling like your hard work is futile, don't give up. Stay positive knowing that eventually your efforts will pay off.
Doing It All on Your Own
Of course, you should be an integral part of your job search, but you don't need to do it all on your own. Engage a staffing agency to help. The right agency that works within the sector you're looking to get into can help open doors for you. Agencies have great connections and could get you into a great temporary or permanent placement in no time.