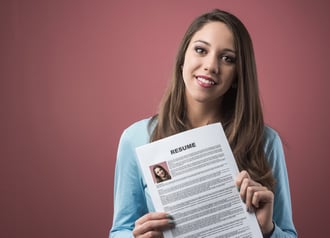 As a job seeker, you know that a staffing firm can help you find employment, be in temporary, temp-to-perm, or permanent work. You know that when you apply to a staffing firm, your recruiter will match your resume to open positions and send your resume to hiring managers in the hopes of landing you an interview, and hopefully, a new job.
But a staffing agency can actually do so much more for you than just help you land a job. Here are some little-known advantages of working with a staffing firm.
1. Resume Help
Your resume is usually the first impression you make on hiring managers. If your resume isn't all that impressive, it can really hurt your chances of getting an interview. Your recruiter will review your resume to see how it could be improved. Perhaps it's too long or too short. Perhaps you're not using enough facts and figures. Maybe you're not using keywords that potential employers are looking for. Perhaps you have grammar and spelling mistakes or maybe you're missing vital information that could give your application a boost.
Your recruiter will help you fix up your resume so it's the best it can be—which can help you find work now and in the future.
2. Interview Tips
Whether you're trying to land your first job interview ever, you've been going on plenty of interviews but not being offered positions, or you haven't been interviewed in years, you can probably benefit from some interview tips and advice. You might not realize that the way you're dressing, the way you're speaking, the answers you're giving to interview questions, or even the body language you're using might be putting off potential employers.
Your recruiter will help you put your best foot forward during the interview, so you can increase your chances of being offered a job. You'll learn best practices and common interview mistakes to avoid.
3. Access to Hidden Jobs
A staffing firm will not just send your application to positions on online job boards—something that you could just do on your own. Recruiters have access to the hidden job market—to employment opportunities that aren't advertised anywhere for you to find on your own.
When you work with a staffing agency, you'll gain access to all of these unadvertised positions, giving you more opportunities to get hired.
4. Help with Negotiation
Sometimes the job offer you've been given isn't ideal. Perhaps you believe you're worth more money. Perhaps the schedule isn't flexible enough for your liking. Or maybe you want more vacation time. But negotiating salary, commission, or other parts of a job with a new potential employer can be awkward. When you work with a staffing firm, you won't have to worry about negotiating the best deal yourself. Simply communicate your concerns and your recruiter will negotiate on your behalf to ensure you're happy with your new position and your needs are met.
5. Onboarding and Training
Once you've been offered a job and accepted it through a staffing firm, you won't just be thrown to the wolves and left to your own devices. Your staffing firm will ensure that you know what you're getting into. It'll offer you onboarding to ensure that you learn more about the company, the position, and the work you'll be doing. It may also offer you company-specific training to get you up to speed on the business's unique processes and systems. And it may also provide health and safety training to assure that you don't get hurt on the job.
Staffing firms do more than just place job seekers with appropriate positions. They offer a wealth of other valuable advice and services that job seekers can benefit from. If you want to start taking advantage of these services, contact Liberty Staffing.