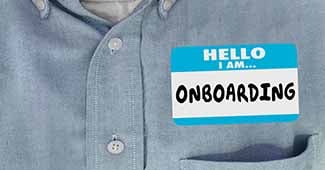 Because we're a staffing agency, we have an up-close and personal view of the hiring and onboarding process. We have definitely seen what works and what doesn't when it comes to efficiently onboarding and training new workers.
If you're looking for new people to join your team, reach out to us today! Liberty Staffing Services can help you find and place great candidates in all sorts of positions, including jobs you may be struggling to fill.
What do you need to do once you have a new hire who's ready to go? In this article, we will break down some of the best ways to utilize your onboarding and training processes.
1. Think about Onboarding During the Hiring Process
Employers definitely benefit from thinking about onboarding as something that starts before a person is hired. Think about how a person gathers their first impressions about your company during their interview (which may be virtual or in-person).
The interview period is a great place to set expectations, provide information about workplace culture, and introduce your potential hire to the first people they're going to know at your company.
When you think about onboarding as something that starts before a person is even hired, you are going to have a head start on the entire process.
2. Design Your Onboarding to Tell the Story of Your Company
Onboarding isn't just about teaching someone the rules and regulations. It's also about helping them find out who you are and how they will fit within your organization.
Sometimes this part of the onboarding process is called "storytelling," because what you want to do during this phase is tell the story of your company. Who are you? What is your history? What do you value? How do you want your employees and customers to feel about your business, and how do you work to make that happen?
Sometimes employers forget this important part of training a new worker, which leaves the team member feeling disconnected from the company and its values.
3. Save Time by Automating the Process
Onboarding and training software can eliminate redundancies and ensure consistency in your training processes. There is a lot of room for human error when individuals are explaining things to other individuals. That's why so many employers choose to streamline their training processes and have everyone go through the same procedures.
Automated onboarding reduces paper forms and is compatible for virtual team members. You can train your workers faster with automated onboarding, and that means less time lost to job duties that aren't being accomplished.
4. Don't Try to Do All of Your Onboarding and Training in One Day
We don't remember everything that we are told. That's just a frustrating reality of being human! If you want to improve your new hire's memory of everything they need to know, spread training out over several days or even a full week.
Spreading things out helps your workers to retain more information effectively. Slowing things down saves you time in the long run because you spend less time repeating information to someone who has already forgotten it, by no fault of their own.
5. Provide a Mentor
Pairing new workers with a more experienced mentor is a great strategy for onboarding and training. It benefits the mentee because they can learn more about the company and the job from someone who has been there for a long time, but it also benefits the mentee.
The mentee can use this opportunity for professional development and advancement into management. We highly recommend facilitating mentor/mentee relationships between your established and new workers.
Are You Taking Advantage of Staffing Agency Services to Find New Hires?
If not, what are you waiting for? Liberty Staffing Services is an independent staffing agency with multiple branch locations across Ontario. A staffing agency can help you recruit workers and also interview, hire, and onboard them. Your life will get a lot easier when you outsource the recruitment process to professionals!
Whether you're looking for temporary workers, permanent workers, part time staff, full time staff, factory workers, office staff, or any number of other staffing solutions, we are here to help!
Contact Liberty Staffing today to find out how our professional staffing services can help you solve your hiring challenges.