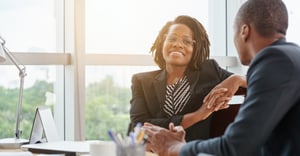 You may think that once a hire has been made, the hardest part of the process is over. Onboarding new employees is perhaps just as important, and often just as tough.
The onboarding process sets the stage for the rest of the employee's time with you, so it's crucial to get it right.
Download our whitepaper to see how we solve our clients' evolving staffing issues
Liberty Staffing Services would like to provide you with six tips to help you successfully onboard every new hire you make.
1. Start Before Day 1
Most HR managers believe onboarding starts when the new hire arrives at the workplace for the first time. While Day 1 is important, the onboarding process begins much earlier.
Onboarding employees begins when you make an offer of employment to them. From there, the job candidate will negotiate with you. Clear and swift communication sets expectations and the tone for your interactions. It also begins building the basis of the rules of etiquette in your workplace.
2. Involve All Stakeholders
You probably know the people you want to introduce your new employee to. You should think carefully about the stakeholders involved in the hiring process. There's often more than you think.
You'll likely introduce the new hire to many key players in the company, as well as their supervisors, managers, and team members. Don't forget about other informal stakeholders, especially if there's a hierarchy in the business. Who are the decision makers? Whose approval do you need to get things done?
There might be other non-managerial employees that the new hire will work with on a regular basis. Introducing everyone right off the bat can keep everyone in the loop and help new employees settle in sooner.
3. Do Some Storytelling
Perhaps you don't consider spinning a yarn as part of the onboarding process, but "myths and legends" could give your new employees a crash-course in company culture.
This is a chance to tell the new employee what the company is all about, but it's also a chance for you to nip any negative myths in the bud. Some of your employees no doubt like to tell tales, some of which can impact a new hire's confidence and productivity. By taking control of the storytelling process, you can help the new hire feel more immersed and confident.
4. Automate Where You Can
While a great onboarding process is always going to be people-oriented, one of the most common reasons for poor onboarding process is a lack of time. You and the rest of your HR team are busy.
Get a helping hand by automating some of your onboarding tasks. Providing checklists, or welcome videos, can help you get your employee started on the right foot, without eating up inordinate amounts of your time.
5. Discuss Culture and Set Expectations
Remember how we said that communicating often with your new employee after a job offer helps set expectations? That's part of the onboarding process.
During the onboarding process, you'll want to lay out exactly what's expected of the new employee. Setting expectations early prepares new hires for success. Being upfront about them means employees have no excuses if they don't live up to expectations either.
Going over company culture is a key component of expectation setting. How quickly should you respond to emails? What's considered appropriate behaviour towards other staff members? Company culture often speaks directly to these sorts of concerns, so be sure to spend some time elaborating it.
6. Prepare for Day 1
You should, if possible, take time to set up the new employee's work station, and any software/equipment they'll need. This will let them be able to start work sooner.
You should also be prepared to set an agenda for their first day, including one-on-one meetings, or a team lunch.
Good Onboarding Starts with Great Hiring
Kick your onboarding efforts off by making the right hire. If you haven't found them yet, get in touch with Liberty Staffing today.