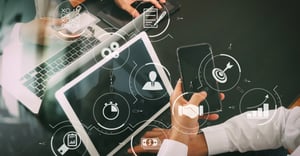 So you've hired an employee through Liberty Staffing. That's great! Now it's time to onboard the new hire, and manage your team's overall productivity. After all, having good productivity is ideal in any work environment. Productivity goes a long way, from providing a smoother workflow, to selling more of your product/service, and ultimately making more sales for your business.
Download our whitepaper to see how we solve our clients' evolving staffing issues
If you're hoping to boost your productivity, or that of your team, take a look at some of these great tools. They can help you work smarter, not harder.
1. Make Collaboration Seamless
There are plenty of tools to choose from when it comes to collaboration, but all of them are designed to make it easy to manage projects and teams. With instant messaging and more, it becomes easier to check in on progress, ask questions, and get answers.
Communication is a cornerstone here, so research apps that allow you to chat in real time are great tools to utilize. Mobile solutions are also important, especially when you have team members who work offsite or travel. Finally, look for tools that integrate with some of the other productivity solutions you adopt.
2. Pick an AI-Enhanced Scheduling Tool
Calendars and scheduling tools are an absolute must for almost any workplace today. They help you keep track of who is working which shifts or deadlines for certain projects or orders. Meetings, conferences, and training sessions also need to be entered into the calendar.
Some tools, though, make you spend a good part of your work week just entering and updating scheduling information. That doesn't enhance your productivity.
There are new calendar apps that have AI enhancements that can reduce your time on scheduling tasks. These smart calendars help auto-fill recurring meetings, and build shift schedules based on past information.
3. Track Your Time
Before you can boost your productivity, it helps to figure out where you're spending most of your time. Once you know which tasks take you the most time, you can look for ways to streamline them and enhance your productivity.
To do this, you need a time tracker. This can help you keep track of how much time you're spending on a task, or it can help your monitor employees' time on projects. This information can then be used to streamline tasks, bill clients, or even build future project timelines and schedules.
For the ultimate productivity boost, make sure your chosen app integrates with the other productivity tools you want to use.
4. Manage Email More Effectively
Inbox zero might be more of a myth than an achievable goal for most people, but you can still adopt any number of tools to help you manage your messages more effectively.
Given that the average employee often spends a third of their work week on email alone, any app that streamlines this task can help your team improve their productivity. Some apps declutter, others bundle, and still others save time by unsubscribing you from automated email lists.
5. Improve Your Focus
One of the challenges of the Internet era is how easy it is to get distracted and sidetracked. Looking something up on Wikipedia or YouTube can lead to a rabbit hole that causes you, or your employees, to lose time. Even social media can take up your focus.
There are apps out there designed to filter out the noise and help professionals get back to work. When every interruption disrupts your flow, using an app to silence messages, retweets, and other notifications can help you get back more of your day.
Some apps will even measure your time on social media, and other sites, to make sure you spend more time working than playing.
Discover a Better Way to Hire
Another way to improve productivity is to work with the latest technology to improve the hiring process. Get in touch with Liberty Staffing Services today and discover how our recruiting technology makes hiring more streamlined than ever!