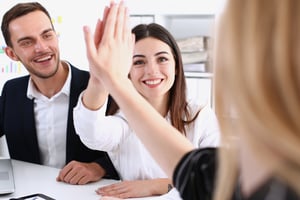 Are you a business owner, or hiring manager? Is your busiest season during the summer? With higher productivity, a heavier workload, and employees taking vacation, it can be a stressful time, not only for you, but for your employees. During difficult times like these, as a business owner or manager, it's important that you instill positivity and motivate your team members as much as you can. After all, your team members are important, and they keep your business ticking.
Now that you've brought on workers from Liberty Staffing, we would like to provide you with some ideas and tips of how you can keep your employees motivated and happy.
1. Bonuses/Monetary Incentives
Let's face it, what keeps many working candidates motivated is money. We all need money to pay the bills, and put food on the table. Giving bonuses is very traditional and beneficial. That's why a lot of companies choose this route to keep their employees motivated.
By giving regular bonuses, you will help keep your employee retention. Instead of your candidates seeking work elsewhere for higher pay, they can stay at your company and earn a continual increase.
However, not all companies have the ability to provide their workers with regular bonuses. If you are in this category, there are other things that you can do. Treat your employees to lunch, buy them a coffee, or give a gift card. A simple gesture can go a long way.
Read on for more suggestions of how you can keep your team members motivated and happy to come to work everyday.
2. Celebrate Milestones
Is one of your team members coming up on a work anniversary? Celebrate it with your team! Is an employee getting married? Be sure to celebrate these events. Milestones can be professional or personal, big or small. You can get everyone to sign a card, or have a barbeque to celebrate.
Let your employees know that you care about them, and that they are an important part of your team.
3. Create a Positive Atmosphere
Let's face it, nobody likes to work in a stressful environment. Stress often causes bad attitude. As the business owner or manager, your employees look up to you and learn from you. It is your responsibility to instill positivity in the workplace.
A simple way to create a positive atmosphere is to smile, listen to your team members, be available, and be supportive. Instill teamwork between all members. Be that ideal role model, and set an example for your employees.
If you want to get really creative, you can play some upbeat music during work hours, or host fun events like bring your pet to work day, or have a potluck.
4. Empower Them Through Recognition
A simple "please" and "thank you" goes a long way. Make sure to show your appreciation to your employees.
In many cases, employees often leave their job because they receive little to no recognition. Think about it. Would you want to work at a company that does not give any sort of positive recognition? What would be the point in going to work everyday? Probably just the paycheque, and while that is important, employees will not want to give 100% of their energy to the job.
It's imperative that you tell your team members how important and valued they are to the organization. You can do this verbally, or in writing. Workers who feel appreciated experience more self-worth and contribute more to the company.
5. Offer Professional Growth and Promotion
As a business owner or manager, we're sure that you'd like to see your employees grow professionally at your company, and work many years with you. One way to ensure this is to promote that you hire internal positions from within the company. So, those who are currently working for you have great potential to move up in the company. After all, it can be quite boring for an employee to stay in the same position for years.
Keep your team members engaged and motivated by offering the ability for promotion within your company.
Need more motivational tips for your employees? Be sure to contact Liberty Staffing today.