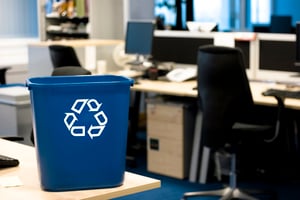 Today is Earth Day! Earth Day is about celebrating nature, and conserving energy.
If you are a business owner, and client of Liberty Staffing Services, we would like to provide you with some tips to help your business become more eco-friendly.
Did you know that job seekers are more attracted to organizations with sustainable practices? Not only are green businesses beneficial for the environment, but being environmentally conscious can also help attract top talent to your company.
The following tips are easy, and companies big and small can implement these ideas into their business.
1. Recycle
You would be surprised to know how many businesses/corporations don't recycle. If you're not in the recycling game yet, you should be. It's an easy fix. All that you have to do is purchase some recycling bins for your warehouse/office, and dispose of items properly. It's also a good idea to post a list of items that are recyclable, so there is no confusion over what is recyclable, and what is not.
2. Change to LED Lights
LED lights are a bit more pricey than other bulbs, but this is an investment that's worth it. Incandescent and fluorescent lights are said to contain mercury and other toxic gases, whereas LED lights do not. LEDs use far less energy than other bulbs, which is great for the environment. They are also expected to last five times longer than other bulbs.
3. Go Paperless
Even though the world is so technology driven, every company still uses some amount of paper on a daily basis. Try your best to make your company as paperless as possible. Take things digital. Have a paperless day each week with team members, which can help with teamwork and employee motivation.
At Liberty Staffing Services, as a staffing agency we receive thousands of resumes per year. We encourage our candidates to send their documents digitally.
4. Turn Off Lights and Electronics at Night
This is an easy thing to do which can make a big impact on the planet. If you're a business owner of a warehouse or office, turn off your lights each night. There should be a way for you to configure your lights to switch off automatically at a certain time. If your business deals with product or confidential information which you need to keep safe at all times, you can set up motion detected lights.
5. Use Green Cleaning Products
Switch out any harmful cleaning products that you have in your warehouse/office to environmentally friendly alternatives. Not only will this benefit the environment, but you will also be protecting your staff members from harmful chemicals.
Need more environmentally friendly tips? Contact Liberty Staffing Services today.