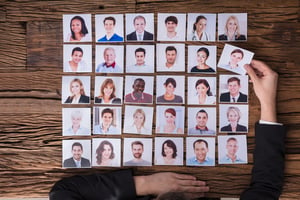 Do you have open positions that need to be filled, and quickly? Many hiring managers don't have time to review hundreds of resumes, schedule interviews, and conduct said interviews. And unfortunately, many managers hire people on the spot, mainly out of convenience, even if they aren't a 100% match for the position.
Don't make these hiring mistakes. A bad hire can cost you time and money. You'll have to start the recruitment process all over again.
It's crucial that you find the right hire for your business the first time around. Here's how you can find qualified candidates for your business.
Know What You're Looking for
First off, it's important to know and understand what you're looking for. Do you need someone on a temporary or permanent basis? Are you looking for someone to sit at the front desk and answer phone calls, or ship and receive items in the warehouse? How many people are you looking for? Will these candidates be working individually, or as a team?
Start off on the right foot by fully acknowledging what your needs are for this open position.
Create a Clear Job Description
Secondly, you'll have to understand the job duties and requirements for the open position. What tasks will this person be doing on a daily basis? What skills or education will this person need in order to be successful in this role?
An unclear, or vague, job description can lead to under qualified or over qualified people applying to the position. So try to be as clear and precise as you can in the job description.
Partner With a Staffing Agency
Lastly, but certainly not least, partner with a staffing agency like Liberty Staffing Services. We offer temporary, temporary to permanent, and permanent staff to general labour, warehouse, and office sectors. We have lots of qualified candidates who are ready to work. Just let us know what type of position you need filled. We take the time to get to know you, the role that needs to be filled, and your company culture, to ensure that we find the right candidate for you.
Hiring in-house can cost you time and money. Let Liberty Staffing help with your recruitment process. Contact us today to get started!