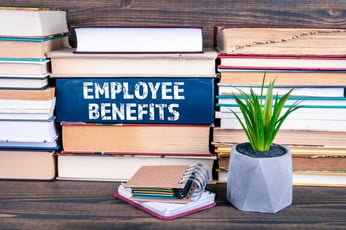 Any time you have more open positions than available candidates, you have to work extra hard to show candidates why you're the best place for them to work.
After all, job seekers have a lot more freedom to pick and choose when the market is in their favour. This is great news for employees who get to find their ideal workplace. But it's a challenge for employers as they have to quickly show candidates what makes their workplace a great fit.
One of the best things to do is bring up the workplace benefits that your company offers! If you're looking for new team members to come on board, Liberty Staffing can help you find them. Contact us today to learn more.
Let's take a look at some of the best workplace benefits to share with your next interview candidates.
Mandatory Benefits
When a job seeker is deciding between a few competing workplaces, they will only choose a place that is fully compliant with all mandatory benefits.
You may think it's obvious to provide and note all of the mandatory benefits companies are required to offer. However, and unfortunately, some potential employees have developed skepticism about employers, thanks to negative experiences at previous workplaces.
Make sure that you let your candidate know that you enthusiastically provide all of the mandatory benefits that Ontario requires. Don't let it seem like you do this begrudgingly. Mandatory benefits are all about ensuring that the employer provides the bare minimum, and the last thing you want to do is come across as stingy when it comes to benefits!
Mandatory benefits include: pension, legislative leaves, paid time off (maternity/paternity leave/pay and parental leave), and employment insurance.
Extended Healthcare
Canadian workers rank their most in-demand benefits in the following order: Extended Healthcare, Disability Benefits, Retirement, Death, and Wellness programs.
Extended healthcare, also called supplemental healthcare, is offered by 91% of Canadian employers. This goes above and beyond the government's health insurance plan.
Also according to Asinta, the premium for these extended healthcare plans is covered at a rate of 100% by 77% of employers. About half of employers offer these same benefits to their hourly staff.
Be prepared to discuss the details of your supplemental health coverage plan with your interview candidates. You never know what kind of health concerns they may be taking into consideration and what role extended health care coverage might play in their final decision.
Mental and Physical Health and Wellness Programs
Wellness programs are in high demand. Job seekers are drawn to employers who communicate clearly that they care about their employees' mental and physical health.
A well-run wellness program won't create shame or unhealthy competition between team members. Instead, a great wellness program will encourage individual health goals, personal growth, and long term healthy habits.
Let your candidate know how your company prioritizes mental and physical health, including incentivized participation in wellness programs.
Workplace Flexibility
Workers are looking for more flexibility at their jobs. Your most desirable candidates want to hear how you will provide them with flexibility, especially with regard to scheduling.
Flexible work strategies can be implemented across countless industries, even in places you might not expect!
Not all flexible options work for every job, of course. You can't run a forklift while working remotely, for example. Even so, there are often ways to implement flexible work policies into your day-to-day operations.
This can include having the option to take time off for emergencies, work remotely if the position allows it, change schedules as needed, work longer shifts in order to work fewer days, and more.
You'll want to make sure your interview candidate knows how you plan to give them the flexibility they are looking for in the workplace.
Liberty Staffing - Matching Great Candidates with Great Employers
At Liberty Staffing, we've been helping businesses find great team members for more than twenty years!
With locations throughout Southern Ontario, we support businesses by providing them with all of their staffing needs. That includes posting job openings, spreading information about positions at job fairs, and managing the application and interview process on your behalf! We get to know you and your business to find out what you have to offer and what kind of employees you need. Then, we use that information to match excellent candidates to your open positions!
If you want to stop stressing about staffing shortages and hiring challenges, contact Liberty Staffing today so that we can help you find the highly qualified candidates that you need.