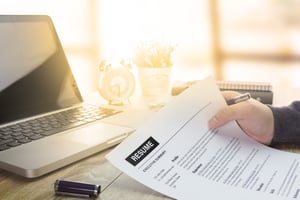 The pandemic has affected how we do just about everything. Many jobs are now operating remotely. Many events have gone online only. Even job interviews have changed, with more employers adopting video interviews.
Another area that has been impacted is resume writing. Just as the pandemic has shifted jobs into the home, it's also changing what employers expect to see on a resume.
Looking for a job? Let Liberty Staffing connect you to the jobs you want. Apply today!
The loss of jobs and the coming talent crunch have highlighted the need to ensure your resume stands out in the crowd. Here's a few of the changes we're seeing and why you should pay attention to these resume writing trends.
1. Highlight Your Telecommunications Skills
The pandemic has shifted many roles that were formerly location-based to remote positions. In response, employers are looking for candidates who have the skills to work remotely.
Highlight your experience with various telecommunications technologies. If you're familiar with Zoom, note it down. It could give you an edge over a candidate who has never used it before.
2. Give Your Resume a Title
A resume title might seem redundant, but it actually makes it easier for overwhelmed employers to zero in on the applicants they want to approach.
How does a title do that? You can put your name at the top of your resume, but that doesn't tell a prospective employer much. When you add that you're an "Experienced Virtual Administrative Assistant" or "Outstanding Customer Service Rep," they can tell at a glance if your resume is worth perusing.
3. Focus on Keywords
Keywords are integral in post-pandemic resume writing. With the advent of ATS technology, this was already the case, but the pandemic has foregrounded it.
If you want to get past the ATS, you must include certain keywords and phrases on your resume. Otherwise, the system will assume you're a bad fit for the position.
Fortunately, it's usually easy to find keywords. Check out the employer's job description as well as the language used in your industry. Terminology changes, so stay up to date.
4. Tailor for Each Specific Job Post
In this tight labour market, employers want to know why they should hire you, specifically. There are probably dozens of other people competing for the same position.
To stand out in this hypercompetitive market, don't send out the same cookie cutter resume to every job you apply for. You must tailor your resume to each job post.
Why? Employers want to see you're invested in the position. If you can't take the time to customize the resume, they're going to assume you're not all that interested and choose someone else.
5. Add Some Personal Details
Consider adding a few personal details to your resume. Keep these in line with the job on offer as much as possible. Maybe you have some volunteer experience, or maybe you align with the company's focus on green initiatives. Showcase how!
Do be careful when adding personal details. You might feel being a parent makes you an expert at multitasking, but an employer may only see an increased risk you'll need time off.
Employers aren't allowed to discriminate on these grounds, but bias persists. You can help them give you a fair chance by refraining from sharing those details in the first place.
6. Streamline Your Resume
As we noted, the labour market is tight. High unemployment and companies paring back has led to situations where employers are being overwhelmed with applications for every job posting.
If you can get your resume past the ATS, then you'll only have a few seconds to make an impression. Try to create a brief summary of your experience. Don't be afraid to leave out jobs that aren't relevant to the role.
By paring back your resume, you'll make it easier reading for an employer.
Looking for your next job? Get in touch with Liberty Staffing and start your search with the right expertise behind you.