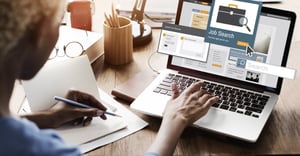 More people than ever have lost their jobs due to the COVID-19 pandemic. Lockdown has been rough on many businesses. As provinces progress through the stages of reopening, there finally seems to be some hope.
Many businesses are anticipating a busy fall and winter, which means they're hiring. They may need to fill roles that have been vacated by team members who decided not to come back, or accepted other opportunities while they were laid off. Still other employers will be hiring to deal with increasing demand.
This is great news for job seekers like you, who are eager to get back to work after a COVID-related job loss. However, you have one big question. What should you put down on your resume?
Looking for a job? Let Liberty Staffing connect you to the jobs you want. Apply today!
We put together these tips to help you address a COVID-related job loss the right way on your resume.
State the Job Loss is COVID-Related
The best way to address a COVID-related employment gap is to be honest. You don't want to hint to employers that your employment gap could have been related to your job performance, especially if that's not the case.
Many employers are quite understanding of the situation right now, especially since many of them have had to say goodbye to talented staff. By being honest with them, you'll address the situation proactively.
You may want to include a short note, or otherwise indicate you were let go, because of COVID lockdowns.
Give Credit for Incomplete Projects
You might have been in the middle of some big projects when you were let go from your last job. That's frustrating, because you may not feel you can put those projects on your resume.
At this time, give yourself credit for these incomplete projects. As we said, employers are quite understanding of these circumstances. Tell them what you were working on, and how these projects made use of your skills before you were let go. Just be sure to indicate you had to leave before the project was completed.
Highlight New Skills
If you were let go from your job, you may have already spent some time looking for work. You might have accepted a temporary job, or you decided to take some online classes and upgrade your skills. You may have learned something new, or even chosen to enroll in a new program for the summer or fall.
If this is the case, highlight the new skills you've been developing over the past few months. You can also highlight which skills you want to keep developing, or steps you're taking to continue your education.
This emphasizes more than just your skills. It also showcases your initiative to employers. Even without a job, you spent lockdown being incredibly productive. You worked on yourself, and became an even more skilled and talented professional. Now imagine if you could put that work ethic to the test in this new role with this organization. Your willingness to keep driving forward will stand out.
Be Positive
Losing a job at any time is tough, and this situation has been unprecedented. Lockdown has been hard on employers and job seekers alike.
It's all too easy to focus on the negative, or to feel a bit "desperate". You might be concerned about what the coming months have in store, or you may feel you need to get a job immediately.
Instead of focusing on these negative feelings, try to focus instead on the positive. Showcasing what you've learned, and what you were working on before you were let go, is one way of projecting that positivity. By being upbeat and positive about what you could do in this role, you'll show employers what an asset you'll be to their team, especially in uncertain times.
Ready to start looking for your next job? Get in touch with Liberty Staffing Services today and find your next great career!