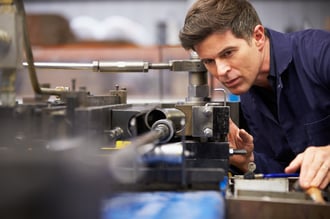 In the last decade, the job market has drastically evolved. We're now part of a free agent nation, where companies are turning towards temp workers to fill their hiring needs. Temp workers have begun to make up a larger part of the overall employment market as businesses have started to increasingly see their value. Contrary to common myths, temp workers aren't just young, inexperienced job seekers who can't find permanent employment. They're skilled, experienced, educated professionals who work in a variety of different sectors.
The industrial sector, in particular, can benefit from temporary workers. Here's why.
1. Filling Short-Term Vacancies
It happens all the time: your industrial employees call in sick, go on emergency leave, head out on vacation, or quit without notice. Unfortunately, these inevitable situations leave you with short-term vacancies. Your workplace productivity suffers when you're short staffed, which can also lead to reduced customer service.
Using temporary workers is ideal when you have to fill short-term vacancies. Doing so can ensure that you keep running at optimal productivity by getting the temporary work that you need when your permanent employees are unable to come in.
2. Providing Assistance for Over-Burdened Employees
When you have large orders to fill, over-burdening your full-time employees with extra work isn't the right solution. You'll only reduce morale, increase the risk of errors and accidents, and cause stress and burnout. Instead, you can get the assistance you need for your full-time employees by bringing in temporary workers to help with the influx of work.
3. Receiving Support during Times of Rapid Growth
Your industrial company won't stay stagnant. You work hard to ensure that it will grow, but sometimes, it can grow too quickly for your current workforce to handle. Whether you're looking for help due to a sudden increase in clientele or due to a planned expansion, using temporary workers can offer you the support you need during times of rapid growth, so you don't have to turn down clients or risk being short-staffed.
4. Gaining Specialized Skills
There is a skills gap in the industrial sector. Unfortunately, your current employees might not have the specialized skills to adequately perform some of the work you need completed. Temps can offer you the specialized skills that you might not find among your current workers. Bringing on experienced temporary workers for specific jobs require less training and less ramp-up time, which saves you money and increases efficiency.
5. Trying before You Buy
One of the best reasons to use temporary workers is because you can turn them into strong full-time staff members if they have what it takes to be offered full-time employment. Instead of committing to a new industrial employee without seeing him in action, you can test out temps to ensure that they have the right skills, experience, and safety consciousness to be assets to your company on a permanent basis. This reduces the negative impacts of turnover and ensures that you build the best workforce possible.
6. Reducing Overtime Costs
Overtime will end up costing you more than you expect. Instead of being stuck in a corner and being forced to offer your full-time employees costly overtime, you can get the work done at a fraction of the cost by utilizing temporary workers instead. A staffing agency can provide qualified industrial workers quickly, so you can save money.
7. Reducing Your Payroll Costs
When you hire new permanent workers, you have fixed payroll costs, administrative costs, and the expense of benefits. Then, there are the sick days and vacation days that you're required to give. All of these additional payroll costs can really hurt your bottom line. But you can avoid them all by hiring temporary workers. You'll only have to pay an hourly wage.