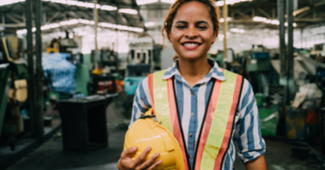 Working in a warehouse or manufacturing environment calls for specific skills to be productive and successful. And by learning these skills? You can go on to build a meaningful, long-lasting career. Manufacturing can be a worthwhile training ground to learn and understand the production process.
To find a top job working in a warehouse or manufacturing plant, connect with Liberty Staffing Services today! We offer great warehouse and manufacturing career opportunities.
So when starting out at a new position in a manufacturing or warehouse job, how can you set yourself up to make the right first impression and build a credible reputation? Here's what you need to know.
1. Review Workplace Safety
Each manufacturing plant or warehouse will have its own set of safety standards and guidelines unique to their location or specific work, but regardless, you should take time to learn these rules. Not only will this demonstrate your attention to detail and willingness to take direction, but it also will help keep you safe and able to work so you can build a long career.
Things to consider? Learn how all of the machinery works and how to properly operate these instruments, gear up with the proper safety equipment, use caution or team lift when dealing with heavy objects, and be aware of all emergency exits and site-specific guidelines.
Your supervisor/manager will train you before you start performing your required tasks or operating any machinery. You have the right to refuse performing a task if you feel it is unsafe to do so.
2. Suit Up with the Right Footwear
Most, if not all, manufacturing plants or warehouses require employees to wear safety boots or safety shoes. This is to ensure that your feet, toes, and ankles stay protected at all times.
You'll be spending most of your workday on your feet. Also make sure that your boots or shoes have plenty of support for the soles of your feet. You'll feel less worn out at the end of the day and will be able to keep going until it's time to clock out if your shoes offer structure, support, and cushioning all day long.
Not sure what kind of shoes to wear? Ask your supervisor what is required for the role.
3. Ask Questions
You're learning a brand new process. Even if you've worked in a manufacturing environment or a warehouse or distribution center before, your new workplace may have operating procedures, tools, or guidelines that are new to you. Remember, your new supervisor is on your side and wants to see you succeed, so ask the questions you need to ask to flourish!
The best way to learn on the job and get acclimated to your new position is to ask questions of your supervisor, your manager, and your team, especially in the first few days. After all, the faster you learn what makes your new workplace tick, the faster you can start to really shine in your new role—and maybe eventually earn a promotion!
4. Show Up Early
If you're early, you're sure to arrive on time to work. It's never great to show up late to work, and it doesn't speak well of you if you show up late on the first day. Something as simple as showing up a little early can speak volumes about who you are as an employee. What's more? You may have extra paperwork to fill out on your first day. Especially as you get used to the processes at your new plant, allow yourself several extra minutes at the beginning of your workday to fill out paperwork, clock in, and get yourself ready for your shift so you can start on time.
5. Be Independent and Self-Motivated
Working as a warehouse associate, picker, or packer means using lots of different skills like using an RF scanner, driving and operating a forklift, organizing packages, etc. The same goes for working in the manufacturing industry. Both of these kinds of jobs are great for people who are self-motivated. You won't have someone following you around, cheering you on all day, but if you stay driven and independent and approach your work with a proactive mindset, your supervisors will be sure to notice — and maybe even promote you to a higher position!
6. Know Your "Soft Skills" are Just as Important as Anything Else
Experience working in the manufacturing industry or working in a warehouse are some of the most important factors for finding another position in the same line of work. But even if you've never worked in a plant or fulfillment center before, you can make up for this by showing up on time and demonstrating that you're reliable, determined, and dedicated.
These are called soft skills, and they're important because they are not something a supervisor or manager can necessarily teach you. A supervisor/manager can teach you how to drive a forklift. A supervisor/manager can't teach you how to have a passion for driving a forklift, or how to be hardworking, or how to have a sense of urgency to complete the task at hand.
7. Remember: The Same Title Can Mean Different Things at Different Companies
Warehouse associate, picker, packer, machinist, and technician — these titles may sound similar, but your actual job description and expectations might vary greatly from one workplace to another. You might be picking and packing boxes, operating a forklift, or using very different machinery.
Because of this, make sure you ask what your specific job duties are on the first day so that you don't miss a step.
8. Be Friendly and Flexible
As simple as it sounds, showing your new supervisors and coworkers that you are approachable, friendly, hardworking, and ready for anything can go a long way. The easiest way to win over new people is to smile and say hello. Showing that you care about others, that you don't mind adjusting on the fly, and that you can take direction with a smile is the perfect way to make a strong first impression that will follow you into your new career.
Follow Up with Liberty Staffing
At Liberty Staffing, we're here to support you and set you up for success in your new position. We're here to help you thrive! If you have any questions about your new manufacturing/warehouse job, let us know. Please also follow up with us when your first day is complete to let us know how it went!
To learn more about finding a job at a warehouse or to work in a manufacturing environment, contact us today.