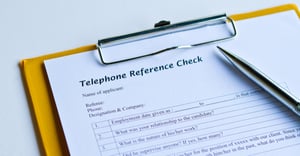 It used to be common to tell employers that you could supply references upon request. Today, though, you may notice many employers asking for references in the job posting itself. Without these references, you might not be considered for the job.
Whether your references are "available upon request", or you have to supply a certain number with the application, the fact of the matter is you need to have references ready when you're on the job hunt.
Looking for a job? Let Liberty Staffing connect you to the jobs you want. Apply today!
Gathering and supplying references can be one of the trickier parts of putting together a job application. Follow these best practices, and you'll improve your application in no time.
Ask for Permission
One of the biggest mistakes any job applicant can make is simply listing someone as a reference on their resume. They don't inquire with the contact first, then share their information with a potential employer. The reference has no idea that they may be contacted, that the applicant is applying for jobs, or that they could be asked to supply a recommendation.
What if this person doesn't realize they might be contacted? They might not answer the phone, or they could miss the email. They might not give you a good recommendation. They may not even remember who you are.
That's why it's so important to ask if you can put someone down as a reference. People who agree to be a reference are willing to be contacted. They'll also know they agreed to be a reference, so they should be on the lookout for contacts from potential employers. They'll also be more likely to give you a good reference.
Get Recent References from Qualified People
Once you have a reference, it can be tempting to use that person forever. If you're just starting a job hunt after a few years, though, it's a good idea to update your reference list. Make sure you have a reference from your most recent employer. If you finished school 10 years ago, then getting a professor's recommendation may not mean much.
The people you add to your references list should also be relevant to the position you're applying for. A recommendation from a professor is appropriate for someone just entering the field, or someone applying for a professorship. It's less appropriate for someone who has been working in the field for years.
You should also look for references from your direct supervisors, or other people in positions of authority. Your coworker might be willing to give you a glowing review, but that may not be the best reference.
Exercise your best judgment when getting references from other sources, such as educational contacts, volunteer supervisors, and others. They should be able to speak not only to your strengths, but to your skills in the field or industry you want to work in.
Give Adequate Notice
If you apply for a job, you may not expect to hear back for some time. You might think you have a week or two to get your references in order.
You could be caught off guard by how quickly the hiring process can move. If you don't have your reference list ready, you could be left scrambling.
It's a good idea to update your references list before you begin applying to jobs. That way you can apply to that perfect last minute job.
Try to give your references at least a few days to get back to you. While most people will be enthusiastic about supplying a reference, they may not be able to respond to you immediately. They may also require a few days to put together a letter if you need one.
If you have your references in order, you might be ready to start the job hunt. Get in touch with Liberty Staffing today and learn how we can make it even easier.