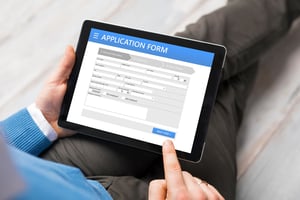 Applying for a new job can be a little intimidating. Even if you've submitted dozens of resumes over the past few months or even over the course of your lifetime, you may still get a little nervous. Maybe you really want the job. In many cases, most people are concerned they'll make a mistake.
Use this list to steer clear of these six surprisingly common mistakes.
1. Your Writing Wasn't Strong
You've likely heard the platitude about a single typo getting your resume put in the "no" pile. While this isn't strictly true, it does speak to the importance of good, error-free writing for your job application.
Keep in mind "good" writing is different from "error-free" writing. While proofreading and using the dictionary to look up tough spellings will help polish your resume, they don't address other issues.
One of the biggest mistakes in writing is the passive voice. Try to use active voice instead. Think about what you accomplished. Did you meet your sales quota? Say, "I attained sales quotas," not "sales quotas were attained." Good writing commands attention.
2. You Didn't Include Keywords
There's another reason words are important for your resume, and it has to do with keywords. Recruiting and hiring have changed in the last few years. Most hiring managers and recruitment specialists now use applicant tracking systems (ATS) to sort through resumes more efficiently.
These programs require keywords. If your job application is missing them, you may end up in the "no" pile. Pay attention to the job description and the terms used in it. Chances are some of them are keywords.
3. You Didn't Pay Attention to Trends
Whether you believe it or not, there is such a thing as a fashionable resume. The expectations of hiring managers and recruitment specialists change over time. Twenty years ago, no one would think to ask you about where your online portfolio was or if you have a LinkedIn profile. Today, however, it's relatively commonplace to ask for samples of work or social media links.
Other trends come and go as well. The inclusion of references goes back and forth. Objective statements are considered archaic now, so make sure you don't have one of these artifacts lurking on your application.
4. You Didn't Follow Instructions
This may seem like straightforward and easy advice, but you'd be surprised by how many people make this mistake. In their haste and excitement to apply for the job, they ignore the instructions and hit "send."
Many job applications are quite simple. If you're not careful, however, you may send your job application to the wrong person, or you may forget to include an important piece of the application.
Almost nothing will take you out of the running faster than an error in following instructions.
5. Your Resume Isn't Legible
Creative resumes are popular right now, which are usually heavily image-based. While these may be suitable for someone applying for a graphic design job, in most cases, they only impede the reader.
You want the hiring manager or recruiter to be able to quickly and easily read your resume. Keep in mind your resume will also likely go through an ATS, so it also needs to be machine readable.
Focus on legibility and readability over fancy design elements. It will take you much further.
6. You Didn't Tailor Your Materials
Imagine you're a hiring manager and you open up the latest job application you've received. At the top, the applicant has addressed it to the wrong person or perhaps even the wrong company.
An application not customized for the job itself isn't much better, and hiring managers can tell. Be sure to tailor your resume for each position, and you'll stand out much more.
Need more resume writing help? Contact Liberty Staffing today.