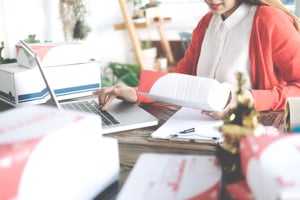 The holidays are fast-approaching, which means that you'll probably start to think about purchasing a few gifts for your family and friends. While the holidays are a joyous time to celebrate with loved ones, more and more people find themselves overspending, and going into debt.
Earning some extra money for the holiday season is never a bad thing. A temporary job with Liberty Staffing can help you gain some extra spending money for the holidays, so you won't have to worry about how you'll make ends meet this year.
Here are a few reasons why you should apply with Liberty Staffing Services for a temporary job during the seasonal rush.
Flexible Schedule
A temporary job is great because it's just as described: temporary. If you're only looking to pick up a few shifts here and there to earn some extra money for the holidays, a temporary job would be perfect for you.
Simply let us know what days you're available to work, and we can connect you with a great temporary job opportunity near you.
Plenty of Hours Available
The holidays are normally a busy time of year for most companies. Products need to be packaged and shipped out to customers, and production levels are at an all time high, so there should be plenty of hours available for you. You won't have to worry about your shift being cut, or production slowing down (at least not until after the holiday season). In fact, you may be asked to work overtime.
The more hours you work, the more money you make!
Potential to Become Permanent
Are you looking for a permanent role? While a temporary role could start out ongoing for a couple of weeks, there's always the potential that the role could become permanent. It's all about what you make it. If you enjoy going into work everyday, you work hard, and express to your supervisor that you're interested in a permanent role within the company, you may be hired on.
Weekly Pay
Liberty Staffing Services pays on a weekly basis, by direct deposit or cheque. This means that you'll receive your hard earned money quickly in your bank account, just in time for the holidays.
Ready to take on a temporary job this holiday season? Get in touch with your nearest Liberty Staffing branch location today! We connect great people with great jobs.