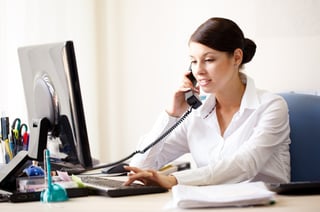 Your employees might call in sick. They might quit on you without notice—or with very short notice. They might suddenly go on leave for an emergency. A sudden fluctuation in demand might have left you short staffed. A special project might have suddenly come up that requires immediate attention.
There is an endless list of reasons why you might need temp and permanent staff quickly. No matter how effective your organization's talent sourcing strategies are, sometimes unanticipated and unexpected situations come up and you're left scrambling to find and hire new workers—as quickly as possible. Though this certainly isn't ideal, it does happen, but there's no reason to stress. You can get the help you need by engaging a staffing agency.
Here's why you should use a staffing firm for your short-notice hiring needs.
The Problem with Hiring on Your Own on Short Notice
You probably do the majority of your hiring in-house. You likely have a sound hiring process and an HR department dedicated to helping you find the best talent to add to your team. Unfortunately, though, when you need employees quickly, you might not have the time required to go through the typical in-house hiring process that you're used to. Most processes take, at the bare minimum, a few weeks from start to finish, considering you have to create job postings, wait a number of weeks for candidates to apply, and then start sifting through resumes, conducting interviews, and calling up references. When you're short on time, you just can't afford to spend weeks looking for new prospects. You need help now.
And faced with time constraints, many hiring managers end up skipping critical steps in the hiring process, like background checking and fact checking resumes. They rush into hiring just to have warm bodies on the floor right away. This, naturally, is going to lead to bad hiring decisions. When you're not taking the time to properly screen your candidates, you risk making mistakes and hiring people who just aren't skilled, experienced, dependable, or the right fit for the positions. Can you really risk it?
The Benefits of Engaging a Staffing Agency Instead
Wouldn't it be great to have a database filled with qualified, pre-screened, and pre-approved candidates to call on when you need help quickly? When you engage a staffing agency for your short-notice hiring needs, that's exactly what you'll get. Your staffing agency's recruiters work day in and day out recruiting top talent in many different fields. They spend their time seeking out the best prospects and they make the effort to build trusting relationships with them—even when there are no current openings that fit their skills and experience. They spend years building their candidate pools, so that, when the time comes and a client company just like yours comes knocking on the door needing temp or permanent staff quickly, they'll have a long list of candidates to offer.
If that's not amazing enough, your staffing agency may also offer you a guarantee—if the worker you were provided doesn't work out, you can send him back and get a new candidate in no time.
The Reasons to Use a Staffing Firm Are Endless
There are myriad benefits to engaging a staffing agency to find temp workers and permanent staff quickly—its recruiters will do all the legwork, you'll have lower training costs, hiring costs, and turnover costs, you'll have access to best-in-class recruiting and hiring expertise and experience, and so much more. But the most important reason to engage a staffing firm instead of hiring on your own, especially when you're under time constraints, is because you'll get quality workers as fast as you need them.